It's no secret that I had a pretty difficult pregnancy. After three weeks in the hospital on bed rest and an emergency c-section, I didn't really expect an easy transition to motherhood. I didn't have that post-delivery moment so many other mothers talk about where they looked into their newborn's eyes and it was love at first sight.
I don't even remember what he looked like the day of his birth.
After about 10 seconds in my arms, Andrew was quickly moved to the NICU for monitoring. I remember James calling to me, "Are you ok? Do you want me to stay with you?" "Go with the baby" I yelled, praying that my little one would be alright.
Then, I was alone.
Well, I wasn't technically alone. There were nurses cleaning me up and moving me to the postpartum ward. But I felt alone.
I was being treated with magnesium to combat my preeclampsia, so I could not go to the NICU to visit my son until more than 24 hours after his birth. And the first time I did was not the spectacular meeting of my dreams.
I had to fight with the NICU nurse to even get to hold him — we didn't come during one of his designated "touch" times, and she told me I wasn't allowed to hold him. Thankfully, my delivery nurse told her in no uncertain terms that I had not held my baby since he was born and I was not leaving until I got to hold him.
This was the first of many battles I've fought as a mother.
As a Dr. Smith's Premium Parent, I was asked to share the thing that most surprised me about motherhood. As I thought about this more and more, I kept coming back to how often I've had to fight for what's best for my son (and myself).
I never thought my first moment with him would be something I'd have to fight for.
I never imagined feeling guilty about calling the doctor when he was sick.
But here's the thing I've come to realize: Every family/child/parent is different. What's best for you may not be what's best for me. And most others think they know what's best for you and your child, and will try to impose that upon you. So, as a mother (or father), you have to go into battle, guns blazing, ready to fight for what's best for your child.
YOU know them better than anyone else. So trust your gut, and fight for it.
I'll tell anyone who asks that I think moms are Super Heroes.
They have supernatural powers that help them understand what a crying baby needs. Isn't it crazy how you just KNOW what your child wants?
Their uniform is a comfy shirt and yoga pants, stained with mushed food and spit up. You know those days when you don't get a chance to shower? Yeah. Those days.
They can sense when their child is up to no good. A quiet toddler spells T-R-O-U-B-L-E.
The tools of their trade remain the same: Some healthy snacks, juice, diapers, wipes and good diaper rash cream.
Yes, I said a good diaper rash cream. 
Diaper rash creams are not all created equal. A good cream can be the difference between a fussy, crying baby and a calm one. I'd never tried Dr. Smith's before, but after sampling some of their cream, it's now a staple in my diaper bag.
It works quickly and clears up any sign of diaper rash. I also like that it doesn't smell like medication.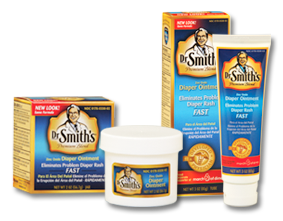 If you're looking for a new diaper cream to add to your Super Mom tool belt, Dr. Smith's is now available nationwide at Walgreens! You can find the retailer nearest you at drsmiths.com.
To celebrate their nationwide launch, Dr. Smith's is giving away a $50 Walgreens gift card!
What do you have in your Super Mom tool belt? Have you ever tried Dr. Smith's diaper rash cream?
br>