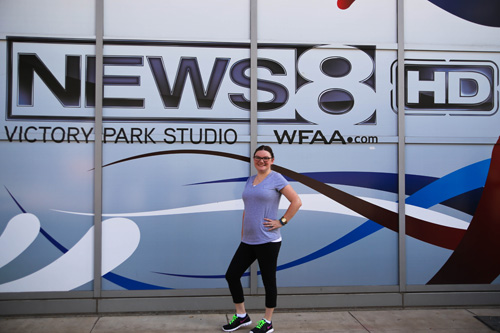 I've struggled with weight gain for most of my adult life. I was chunky before having a baby — and don't even get me started on my attempts to shed pounds after he was born. So when I was asked to take part in a special weight loss challenge by a local TV station, I was thrilled. I wanted to share some of my struggles with you all, and talk about my plan of action moving forward. I also have some behind-the-scenes photos from my segment, that was filmed last week!
My Weight Loss Challenges
For me, food is tied to emotions and memories. When I'm stressed, I find comfort in calories. When I'm bored, I eat to give myself something to do. When I'm sad, nothing makes me happier than a few cookies. You get the drill. It's a very mental thing for me.
Since I work from home, I don't really have a schedule to follow in terms of when I eat. Some days, I'll look up and it's 2 pm, and I need to go pick up Andrew from school and I haven't had a bite to eat. And then, I'm too tired and hungry to make anything healthy, so I run through the drive-thru. For dinner, The Nerd usually picks up some take-out on his way home from work.
I also struggle with the desire to exercise. It's so difficult for me to motivate myself to go to the gym, or even to go for a walk. Exercising is not something that comes naturally, so I have to make myself do it.
Basically, I like being a couch potato and eating crappy food. So this is going to be a *really* fun experience.
My Goals
My current weight is 158 pounds. I would *love* to be close to 140 pounds when all is said and done.
But the most important thing for me is to start to live a healthier — and hopefully, happier — lifestyle.
My Plan of Action
As part of the Cooper Challenge, I met with a sports dietician and personal fitness trainer at the Cooper Clinic in Dallas. They assessed me and gave me some things to work on over the next little while.
First, I'm going to work on making healthier choices when we eat take-out. I'm going to stick to 1,500 calories a day, making sure to get in breakfast, lunch, afternoon snack, dinner, and a snack before bed. The idea is to increase my metabolism by eating smaller meals more often. She also wanted me to focus on adding more protein into my diet.
I also drink a lot of soda — Diet Dr Pepper, in particular. And the taste of Coca Cola is one of my favorite things in the world. But instead of trying to cut soda from my diet, my dietician asked me to add in a glass of water for every soda I drink. That way, I'm increasing the amount of water I'm drinking. The funny thing is, since doing this, I'm actually drinking less soda because I'm not as thirsty.
The other major area the dietician asked me to work on was my sleep schedule. Frankly, I don't get enough *restful* sleep. That's a bit difficult when you are co-sleeping with a toddler, but hey, we can try, right? Some things I'm going to try is no caffeine after 6 pm, no screen time an hour before bed, and taking a hot shower right before bed.
On the exercise front, I'm going to walk for at least 30 minutes three days a week, doing a few exercises beforehand. The Nerd and Andrew have been coming with me, and it's been really fun to get to spend some time with them in the evenings. The other two days, I'll be hitting some group classes at the Cooper Clinic focused on strengthening my core.
My TV Experience
Our segment aired on Good Morning Texas last week. Here's a look at what went on behind the scenes.
The show was super fun, and I get to do the challenge with three other local bloggers. Over the next four months, we'll have periodic segments to check on our progress and give some tips for others who want to lose weight.
The show was broken into two segments. In the first segment, we had to walk out and stand next to a sign with our name and current weight, while the hosts discussed some of the issues we face.
Our second segment was all about the importance of strengthening your core and developing lean muscle mass, which increases your metabolism and helps you lose weight. We even demonstrated some easy exercises that busy parents can do at home.
It was a really fun experience, and I'll make sure to continue to share my progress with you along the way!
br>