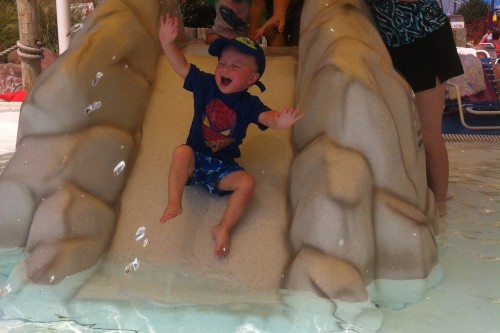 When I was pregnant, I remember imagining how life would be once my little guy arrived. We'd snuggle together and read stories before bed. We'd take trips to the zoo to see all the exotic animals and sometimes, we'd have a picnic in the park. Sounds just about perfect, right?
But I never imagined I would have a strong-willed, independent boy who faces the world without fear. And I never imagined just what that would mean for me.
Last week, I endured one of the hardest things I've ever had to — watching my son be strapped onto a board in the hospital to go through a CAT scan in the Emergency Room.
We were visiting my parents in East Texas, who are moving into a new house. Andrew was playing with his cousins on the bed. I was distracted, when I heard him hit the floor. He fell onto his head. He seemed ok, so he got back up and started playing again. Not half-an-hour later, he fell again. And again, he seemed fine.
Until about an hour later, when he started crying for no discernible reason. Then the puking started. And I knew that something was really wrong.
Turns out, it was a concussion. My poor, poor baby. He's ok now, but it was an awful night.
I'm sure this is just the first of many injuries I'll watch him endure in his life, and I've come to a realization since that night.
I'm just not Boy Mom material.
I can't handle the bumps and bruises.
The wrestling.
Watching him hurt.
Knowing he'll fall.
It's excruciating. I want to jump up and save him. I know I have to let him make his own mistakes. I have to let him learn on his own. And I hold myself back.
Then I see him get up.
Fight.
Stand tall.
Work through it.
And I know he'll be alright.
Maybe there's something to this Boy Mom thing after all.
br>