A few weeks ago, my family had the chance to visit Summer Adventures in Fair Park. I've been wanting to take Andrew all summer, and we finally had the chance, thanks to the Dallas Convention & Visitors Bureau. With summer ending and school right around the corner, you don't want to miss the opportunity to take your family to experience the fun at Fair Park!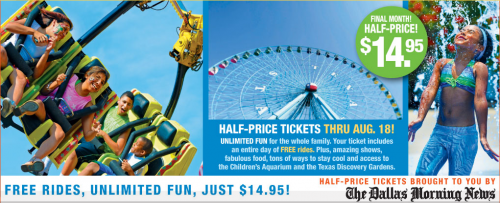 Summer Adventures in Fair Park is running a special on tickets now through Aug. 18!
Tickets are half-price — just $14.95 for unlimited rides and entertainment! Plus, parking is just $5 for the rest of the summer.
Summer Adventures is a one-stop destination with fun and entertainment for guests of all ages. The park includes more than 20 acres of rides, games, stage shows, water play pools, fountains and misters to help Texans beat the heat while having fun in the sun. And of course, the park offers great Texas fair food.
Mommy and Andrew got to go on the Samba Balloons together. And of course we had to ride the carousel.
Our favorite ride was definitely the Kids Swings. We rode this one several times.
There is a list of kid-friendly rides on the website, however, make sure you read the height requirements before visiting. There were a few rides that allowed us to accompany Andrew, but some didn't.
Of course, we had to ride the Texas Sky Rider. Andrew loved it — he kept yelling, "Wheeeeee!" as the other sky carts zoomed by. The view was stunning — we loved seeing the Cotton Bowl from up high!
We got out of the weather and watched one of the shows in the Captain's Kids Theater. It was hilarious and fun and Andrew really loved the singing animals. It did get a bit dark and scary at certain parts, but it didn't seem to phase Andrew.
We also had to make a trip to the First Aid station, after Andrew tripped and skinned his chin and knees on the concrete. The paramedics were super friendly and helpful, and he was good as new in no time.
It was a great day and we had so much fun. If you're like me and you look forward to the State Fair of Texas every year, this is one way to get that fix a little early. Even if you've never been to the Fair, your family will enjoy the rides, games and shows that Summer Adventures at Fair Park has to offer.
Disclaimer: I was provided with two free tickets for my family to experience Summer Adventures at Fair Park. All opinions are my own.
br>