I've had the Droid RAZR and Droid XYBOARD for a while now, and have been doing my best to figure out their functionality on my own. I think I've done a pretty good job of utilizing their potential, especially coming from iOS devices.
But when Verizon Wireless challenged me to attend one of their in-store workshops on getting the most out of your Android device, I gladly accepted. I signed up for the Getting Started with Android Workshop at a local store, and prepared myself for a two-hour lecture on things I thought I already knew.
Boy was I ever wrong.
Our instructor, Brianna, was very knowledgable. She took time to answer questions as we went along. We started by discussing the Google Android Operating System and how it is Open Source, unlike Apple's iOS. Brianna shared the benefits of that, along with the drawbacks (like how ANYONE can develop an App, so you have to be careful what you download).
She then walked us through the different gestures associated with using a touch-screen Smart phone. There were several attendees in the class who said this was their first Smart phone.
We learned how to utilize Android's AWESOME voice dial and text-to-speech functionality. That in itself deserves its own post.
We also learned how to set up speed dial, walked through the Phone icon on our devices, discussed text messaging and even explored the Google Play Store to download some free apps. Brianna recommended the Zedge app to download and personalize free ringtones.
While the class was very basic and I already knew how to do a lot of the things we discussed, there were several new things I learned!
Did you know you can set up a contact in the Droid RAZR that will go directly to Voicemail any time they call? It will never even ring! Never take those annoying calls again!
You can also send a picture slideshow in a text message. How cool is that?
I would highly recommend the classes for all skill levels… the class covered a range of topics that would be helpful and interested to anyone with a Smart phone!
And I had such a great time and learned so much that I signed up to attend another Verizon Wireless Workshop next weekend on using the iPad for Business! I'm really excited for that one.
Do you have a Verizon Wireless device you'd like to learn how to use? Attend a workshop! They offer classes in retail stores and online! Visit the Verizon Wireless Workshops website for more info and to sign up for a class!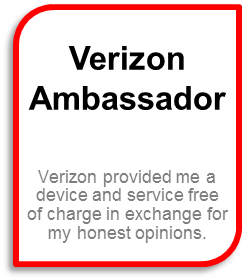 **Disclaimer** I am a Verizon Wireless Ambassador. I received a wireless device and phone/data plan free of charge to use for review and evaluation of Verizon Wireless products and services. As part of the program, I was asked to share my opinions with others, however, my opinions are my own. Please contact vzw@comblu.com with any questions about the Verizon Wireless Ambassadors' Program.
br>