One of my favorite things about the Windows Phone 8 is the ability to use a Lens with the camera. No, it's not what you're thinking — on the Windows Phone 8, a lens is an app that opens with the camera, allowing you to customize a photo BEFORE you take it. This is really great because you can see what different effects will do to a photo, and adjust accordingly to get the shot you really want.
I've downloaded several Windows Phone 8 lenses in my time with the Windows 8X from Verizon Wireless, and I wanted to share my favorite free versions with you.

This app allows you to distort, fatten and stylize your photos with different filters right on the screen!

This lens captures a burst of images so you can get the best shot. Scroll through the captures with the swipe of a finger and choose the best one. You can always come back later and pick another, too!

This lens is just for fun, but it's really cool! My son loves to look at the patterns and shapes brought out by it.
I love this panorama app! Move the phone in a horizontal line to capture the whole scene. It automatically stitches it together for you, so you have a great shot when it's all said and done.
I've really enjoyed putting the Windows 8X to the test, but it's time to send it back! I received a new phone yesterday as part of the Verizon Wireless Ambassador program — the Blackberry Z10! I can't wait to share my thoughts with you and some of the cool features.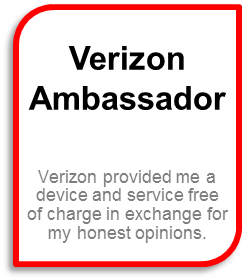 **Disclaimer** I am a Verizon Wireless Ambassador. I received a wireless device and phone/data plan free of charge to use for review and evaluation of Verizon Wireless products and services. I also received tickets to Sesame Street Live. As part of the program, I was asked to share my opinions with others, however, my opinions are my own. Please contact vzw@comblu.com with any questions about the Verizon Wireless Ambassadors' Program.
br>