This post is part of a social shopper marketing insight campaign with Pollinate Media Group™ and Tagg™ Pet Tracker, but all my opinions are my own. #pmedia #pettracker http://cmp.ly/3/8vNxcO.
There are two things that our beagle is good at — eating and sneaking. From the time that she was a puppy, Kaylee has mastered the fine art of sneaking food and treats. Once when we were visiting my parents, I happened to walk into the room as she launched herself from the back of the couch onto the kitchen counter in an attempt to snag a piece of bread. She has to be the most food-motivated dog on the face of the planet.
It's not like she doesn't eat well. There is an abundance of dog food in our house — we've never had to restrict her diet. But recently, I've noticed that she has put on a few extra pounds. And something tells me it doesn't have anything to do with kibble.
Any food in our house is fair game. I will walk out of the room for two minutes and return to the sound of a package rusting behind the couch. You see, that's her play — she waits until you walk away, then she sneaks out and snatches whatever food she can and disappears into the Sneaky Beagle's Secret Stash.
When I heard about the Tagg Pet Tracker, I was really excited to try it with Kaylee. It tracks your pet via GPS — you can track your pet's location and activity from your computer or mobile device. This allows you to see where your dog is or monitor her activity levels 24/7. The lightweight pet tracker attaches to your dog's existing collar, and is designed to be worn at all times, even while swimming. Not that you'll ever find my fat, lazy beagle anywhere near a pool.
With Activity Tracking, you can monitor your pet's activity levels and spot long-term trends. Did you know that veterinarians recommend that dogs get 30-60 minutes of daily exercise? Tagg Pet Tracker allows you to find out if your dog is getting enough, so you can be proactive about her health.
Kaylee definitely wasn't getting enough — and the Tagg proved that — so we decided to start taking family walks in the evening to get her activity level up.
It's kind of like a Fitbit for your dog.
Plus, the Tagg Location Tracking puts you in control of finding your pet. Unlike a microchip, which won't alert you if your pet is lost, Tagg is a GPS pet tracker that sends you a text and email when your pet gets out so you can find her right then. This is especially helpful if you are the owner of a beagle with the uncanny ability to escape fences.
Now that the weather has started to cool off, Kaylee has been spending more time in the backyard. It's nice to know that if she gets out, we can easily find her. We even forgot to turn off the tracker when we went to visit my brother. I immediately got a text message telling me that Kaylee had left our Home Tagg Zone.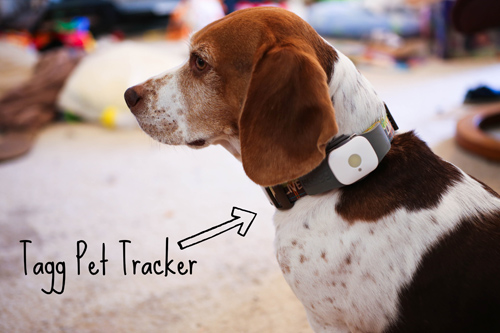 GPS tracking — you can set a Tagg Zone so if they wander outside that zone, you are notified.
Activity Monitoring tracks both the duration and intensity of your dog's activity each day and gives you more insight into your pet's overall health.
An easy-to-use mobile app.
Long-lasting battery
Lightweight
Comfortably attaches to any sized dog collar
Water resistant
Interested in getting one for your pet? Use the discount code TAGG10 to save 10% off of a Tagg Pet Tracker. (The Tagg Pet Tracker normally costs $99 with 3 months of free service).
Do you have a pet? How do you make sure they're getting enough daily activity?
br>