This is a sponsored post by me on behalf of Baby Jack Blankets. I received free products to facilitate this review, however, all opinions are my own.
Back when I was planning Andrew's Star Wars Nursery, it was really difficult to find Star Wars-themed baby items. I searched high and low, but most items were aimed at children and not infants and toddlers.
When Kelley from Baby Jack Blankets asked me to try out a couple of her toddler blankets, I was so excited to see that she offered a Star Wars baby blanket! And since Andrew has started using blankets as a lovey, I knew this would be the perfect product for us!
Andrew really loves playing with the Fleece Ribbon Tab Blanket. The tabs give him something to touch and feel, and the blanket is small enough for him to carry around himself. And you can even get it personalized, which is SO important when you have a crazy toddler running around dropping his blankie left and right.
I love that the tabs are sewn shut so children can't get their fingers tangles. There is still one ribbon on every blanket with a "link loop" to attach a pacifier clip or toy. So smart!
We've been putting our Fleece Toddler Blanket to good use as well. I love that it's big enough to cover up Andrew when he's napping on the couch or in my arms.
The blanket is so soft that he snuggles with it all the time — he loves the feel of it on his face. It is so well-made, too. We've already washed it several times and it is still as good as new!
And I love that each blanket from Baby Jack Blankets is custom-made by hand.
As you can see, the blankets fit right in with all the other fun Star Wars stuff in his room!
I've actually been hunting for some nerdy baby blankets to give as gifts to our friends expecting babies, and I've been disappointed in some that I've ordered from Etsy.
The quality and price of Baby Jack Blankets make them a much better alternative to what I've ordered in the past!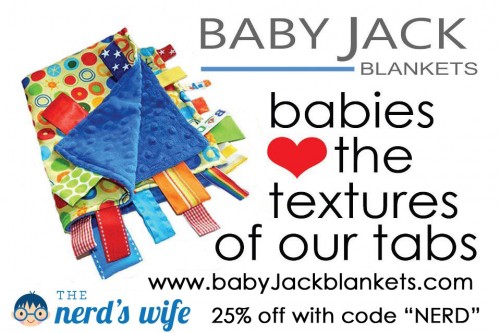 And just for you lovely readers, Baby Jack Blankets is offering 25% off your order when you use the code NERD! Even if you don't need a "nerdy" present, they have patterns and blankets of all varieties — I especially love the Toy Story one for little boys and the Rapunzel blanket for little girls!
Looking for more fun baby and toddler gifts? Check out my list of Baby Products You Can't Miss and 5 New Products for Toddlers!
Does your child have a special blankie that they love? What are some of their favorite lovies?
br>