For days, I've been thinking, and thinking, and thinking (kind of like Pooh Bear) about what kind of fun Fourth of July dessert I could make for this weekend.
I've scoured the Internet…searching blogs and racking my brain for ideas. But nothing really struck me. Until last night.
 I was contemplating making these awesome cookies from Our Best Bites (except star-shaped with blue and red jam) but I'm not really a big fan of cream cheese. What could I do instead?
How about some stained glass sugar cookies, but with red and blue candy? These are a big hit during the Christmas holidays, but I think they turned out especially darling in these festive Independence Day colors.
Star-Spangled Sugar Cookies
Ingredients:
1 batch of sugar cookie dough, *extremely* chilled
Jolly Ranchers candy
Star-shaped cookie cutters
Directions:
Pick out all the red and blue candies from your bag of Jolly Ranchers. Unwrap them and put them in separate Ziploc bags. Using a meat mallet, crush the candies into little, bitty pieces.
Be sure you  have everything ready for the next steps, because you don't want to give your dough a chance to warm up. So go ahead and prepare your cookie sheet with a Silpat or parchment paper. And preheat your oven to 350 degrees.
Remove dough from the refrigerator and cut large star shapes out of it. If the dough is cold, the shape should separate from the dough when you pull out the cookie cutter. Put it on your cookie sheet immediately.
Cut out about six big stars first (any more and they'll get too warm).
Using a smaller cookie cutter (I used a fondant cutter), remove a star-shape from the center of each large star. Fill the small star-shaped holes with the pieces of the hard candy. It's ok if there are a few gaps. They will fill in when the candy melts.
I popped these babies in the freezer for about 5 minutes before baking. It helps the dough retain its shape as it bakes.
Bake for 8-10 minutes, until the edges of the cookies have just started to brown and the candy in the center has melted and smoothed out. Be sure to allow the cookies to cool and the candy to harden before transferring to a wire rack to cool thoroughly.

Aren't they fun? I love how the middle is translucent.
Enjoy!

And don't miss these yummy patriotic recipes!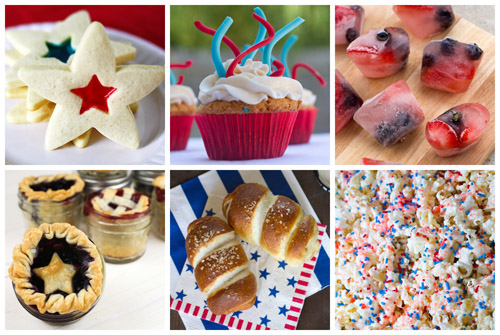 Star-Spangled Sugar Cookies | Sparkler Cupcakes | Fruit-Infused Ice Cubes
Patriotic Pies in a Jar | Pretzel Hot Dogs | Firecracker Popcorn
br>