It's never too early to decorate for Halloween, right? Well, I don't think so! I have been trying some fun and easy preschool crafts with my son, and this Spider Handprint Halloween Craft is one of my favorites. It's a fun keepsake to remember just how little your kiddos once were!
I made ours on a canvas to use as a keepsake for future years, but you could make this on cardstock, or even construction paper!
Spider Handprint Halloween Craft
Supplies:
5×7 canvas
Orange paint
Black paint
Googly eyes
Halloween scrapbook borders (I found mine at Michaels, but these are fun, too!)
Hot glue
Directions:
Paint the canvas with orange paint until it is completely covered. Allow to dry.
Add black paint to your child's hand, then press onto the dry canvas. Overlap with a second handprint so that it looks like a spider shape. Allow to dry completely.
Glue on googly eyes and your Halloween scrapbook borders.
Aren't they fun and cute?
I displayed ours on our mantel. It's such a fun and personal piece to add to our Halloween decor.
I wanted to make some extras to give as gifts to grandparents, but my toddler doesn't like for his hands to get messy. Once he realized that I was going to put PAINT on his hands, he freaked out and I barely got a single spider. Silly boy. But that's the reality of motherhood, right?
Check out these other fun Halloween ideas!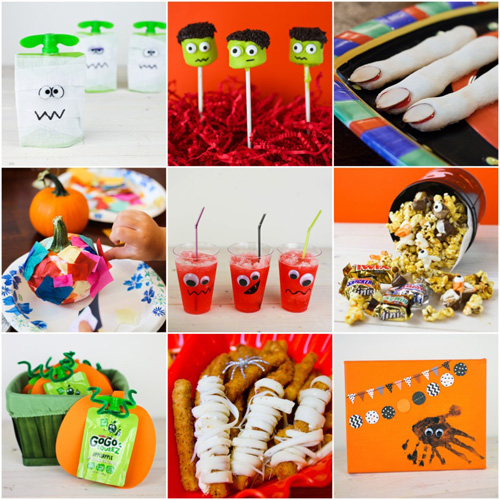 Mummy Applesauce Pouches | Frankenstein Marshmallow Pops | Dead Lady Fingers
Patchwork Pumpkins Craft | Monster Mash Punch | Spooky Candy Caramel Corn
Pumpkin Applesauce Pouches | Mummy Chicken Fingers | Spider Handprint Craft
br>