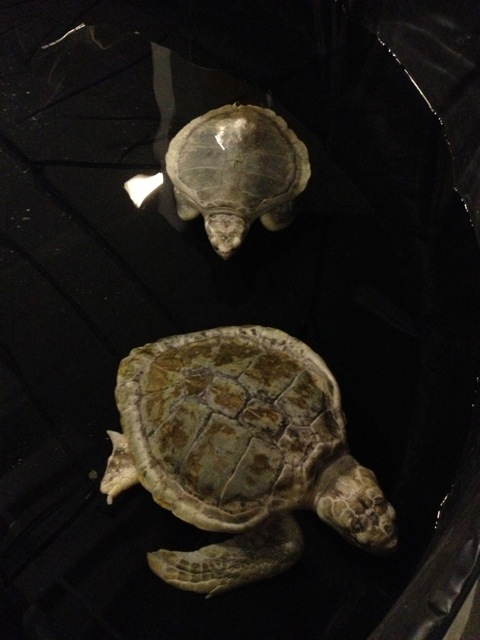 SEA LIFE Grapevine aquarium will unveil its new Turtle Rescue Center next week, and they're inviting the public to celebrate the new exhibit and their second anniversary!
I'll get the chance to preview the exhibit with my family next week, but I wanted to share a little about the exhibit before then. And SEA LIFE Grapevine has graciously offered a family four-pack of tickets for one of my readers!
The new Turtle Rescue Center will provide a permanent home for two non-releasable endangered Kemp's Ridley sea turtles, Roxy and Squirt. Visitors can learn more about conservation and turtle rescue through the exhibit, which features specially-designed tanks to accomodate the turtles' injuries.
Roxy and Squirt were rescued and rehabilitated by Animal Rehabilitation Keep in Port Aransas.
Guests will also be able to learn about the successful rehabilitation and release of Flip, a Kemp's Ridley sea turtle found stranded on the shores of the Netherlands. Flip was released in November 2012 back into its native Gulf of Mexico with the help of SEA LIFE Grapevine.
Want to see the exhibit for yourself? Here's your chance! SEA LIFE Grapevine will provide one winner with four tickets to the aquarium, good after the opening of the Turtle Rescue Center on July 11.
We loved visiting SEA LIFE Grapevine earlier this year, and I hope you will, too! Be sure to like SEA LIFE Grapevine on Facebook and follow them on Twitter!
Disclosure: SEA LIFE Grapevine provided the tickets for this giveaway, in exchange for promotion of their new Turtle Rescue Center. I'll also get the chance to attend a media preview of the new exhibit. All opinions are my own!
br>