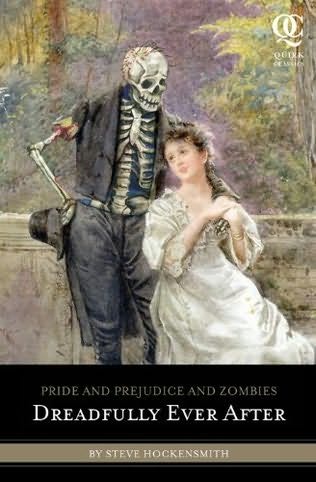 "The story opens with our newly married protagonists, Elizabeth and Fitzwilliam Darcy, defending their village from an army of flesh-eating 'unmentionables.'

But the honeymoon has barely begun when poor Mr. Darcy is nipped by a rampaging dreadful. Elizabeth knows the proper course of action is to promptly behead her husband (and then burn the corpse, just to be safe).

But when she learns of a miracle antidote under development in London, she realizes there may be one last chance to save her true love—and for everyone to live happily ever after."

— Description from GoodReads
Ok, I have to admit — I was skeptical at first of Pride and Prejudice and Zombies. But, I decided to give the first book a shot and LOVED it.
When I was given the chance to read the continuation of Elizabeth and Darcy's story, I jumped at the chance. And I was not disappointed.
I think the absurdness of the story is what appealed to me. Woven within the austere British societal expectations are hilarious scenes of mayhem and gore. Your favorite characters from the original story are here, and the ending to their story fits perfectly with what we have already seen of them in Pride and Prejudice.
Dreadfully Ever After is exactly what you would expect for Elizabeth and Darcy…with some ninjas thrown in for fun. It was a great read!
Pride and Prejudice and Zombies: Dreadfully Ever After is available from Amazon.
**Disclaimer** An Advanced Reader's Copy of this book was provided to me by the publisher, Quirk Books. It did not affect my review.
br>