Can you believe that Easter is just a little more than two weeks away? It's so early this year, I feel like I'm totally unprepared. Andrew is old enough to be able to hunt Easter eggs for real for the first time, though we tried last year.
I'm hoping to make things special for him this year, but with working from home and getting ready for Blissdom, my time is pretty limited. If you're as busy as I am, these Peeps Cupcakes are the perfect solution — they're super easy and really cute. Your little ones will love them!
The trick is to use solid colored cupcake liners to match the Peeps. I was able to find purple, pink, blue, green and yellow Peeps, so I bought cupcake liners to match.
Go ahead and make your cupcakes in the liners you bought. I used a box mix to make Spring Funfetti cupcakes, but you could also use these Easy Vanilla Cupcakes if you want something homemade.
You'll also need some frosting. This is what makes these cupcakes special.
Marshmallow Frosting
Source: Cake Duchess
Ingredients:
1 c granulated sugar
4 egg whites, room temperature
1/3 c water
1/2 tsp cream of tartar
1 tsp vanilla
Directions:
In the bowl of a stand mixer, whip the egg whites until soft peaks form.
In a medium-sized saucepan, stir together the sugar, water and cream of tartar. Then bring the mixture to boil without stirring (so it doesn't crystalize). Boil for about five minutes, until thick, clear bubbles form (should be about 245 degrees F).
Once the sugar mixture is ready, set a timer for 7 minutes and slowly add to the egg whites. Then beat on high for 7 minutes. During the last minute, add the vanilla.
The frosting will be white and fluffy when done.
Using a round frosting tip, pipe the marshmallow frosting on top of the prepared cupcakes. Then add a matching Peep to the top.
Enjoy!
And don't miss my other ways to decorate Easter eggs!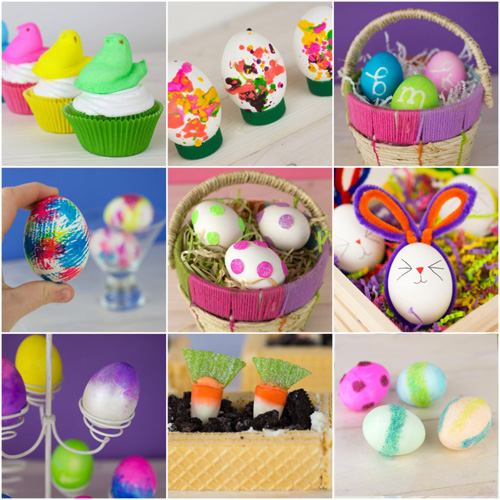 Peeps Cupcakes | Melted Crayon Easter Eggs | Monogram Easter Eggs
Tie Dye Easter Eggs | Glitter Dot Easter Eggs | Bunny Easter Eggs
Ombre Easter Eggs | Carrot Patch Cookies | Colored Sugar Easter Eggs
br>