I shopped for baby supplies using Walmart Saving Catcher and created this Onesie Cupcake Baby Shower Gift as part of a sponsored post for Socialstars. #SavingsCatcher
So many of my friends and family are having babies that I've been trying to stock up on baby supplies. It's sometimes hard to shop around and find the lowest prices available for diapers, wipes, medicine, and all the other extras you need when starting out with a little one.
But I didn't have to worry about that this time around. I shopped at Walmart for some diapers, wipes, diaper rash ointment, and some cute baby clothes as gifts for my cousin's upcoming baby shower. Then, I used Walmart Savings Catcher to scan my receipt after my purchase to ensure that I didn't miss any savings!
Walmart is committed to having the lowest prices, and Savings Catcher is a way of ensuring that you always get the lowest price possible. After you shop, you can submit your receipt and Walmart will scan competitors to find the lowest advertised prices. No shopping around required!
It takes a few days for the scan to go through, but if your purchase price was more than the lowest price found, you get the difference on a Walmart e-Gift card. How cool is that?
Savings Catcher is perfect for looking for deals on nationally-branded grocery items (like snacks and beverages), and seasonal items, like school supplies for back-to-school, or candy for Halloween. And you won't have to shop around for the best deal.
Make sure to submit a receipt with 10 or more items, so you have the greatest chance of having an item matched by Savings Catcher.
This pilot program is currently available in San Diego, Dallas, Charlotte, Minnesota, Atlanta, Lexington, and Huntsville.
With all the cute baby items I picked up, I wanted to create a fun gift that my cousin will love — so I put together this Onesie Cupcake Baby Shower Gift. It's so easy to make, and has that "cute factor" that everyone loves at baby showers!
Onesie Cupcake Baby Shower Gift
Supplies:
Four onesie body suits
Four solid-colored socks
Four cupcake liners
Cupcake box with tray
Tape
Scissors
Directions:
Fold a onesie so that it makes a thin line length-wise. I folded mine four times. Lay a sock onto one end, with the toe pointed up.
Roll the onesie so that the sock will be in the middle, and that each layer will get progressively lower (like the top of a cupcake). Secure with a piece of tape.
Cut a cupcake liner so that you just have about 1/2 inch of the top left.
Tape it around the outside of your rolled onesie, so that it looks like a cupcake from the top.
Cute, right? Repeat with the remaining onesies, socks and cupcake liners.
Add the onesie cupcakes to your cupcake box. I had to tape the tray in my box into place so that the bottoms of the rolled onesies wouldn't show.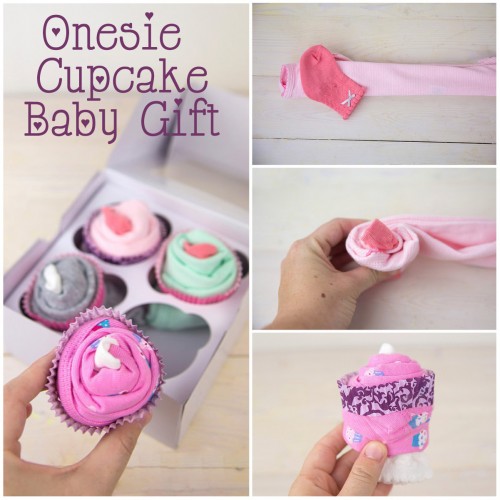 Add a fun bow to the box to make the perfect baby shower gift!