We've celebrated Easter with our son for the past two years, but this will be the first year that we've actually decorated Easter eggs with him. The thought of buckets of vinegar-laced dyes does not inspire happy feelings for me. So I've been hunting (haha, see what I did there?) some toddler-friendly ways to decorate hard-boiled eggs. We had a lot of fun making these Melted Crayon Easter eggs — I think we've found a winner!
Melted Crayon Easter Eggs
Supplies:
Fresh hard-boiled eggs
Crayons
Directions:
This method works best with freshly boiled eggs. You want them to still be warm from cooking, but not too warm that your toddler can't touch it.
Using a sharp knife, remove the wrappers from the crayons. Cut small shavings off of the crayons, separating the shavings by color. (Obviously, you'll want to handle this part — don't let your toddler help!)
Place the eggs on a paper plate, and get your little helper ready. This is where they can participate!
Sprinkle crayon shavings over the top of the warm eggs.
The pieces will melt and create fun designs on the eggs! Allow the crayons to harden and you're ready for an egg hunt!
Check back all this week for more ways to decorate Easter eggs. I'll be sharing some of my favorites, including a few toddler-friendly ideas!
What's your favorite way to decorate Easter eggs?
And don't miss my other ways to decorate Easter eggs!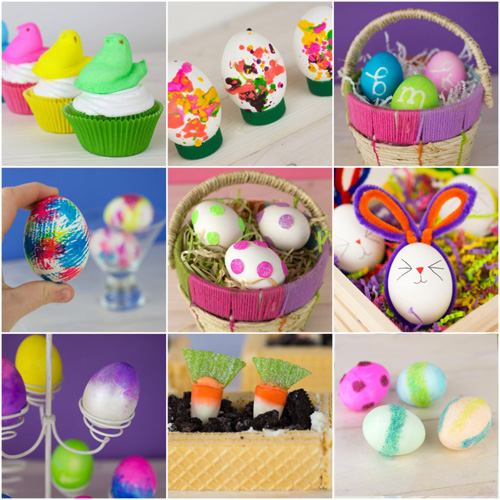 Peeps Cupcakes | Melted Crayon Easter Eggs | Monogram Easter Eggs
Tie Dye Easter Eggs | Glitter Dot Easter Eggs | Bunny Easter Eggs
Ombre Easter Eggs | Carrot Patch Cookies | Colored Sugar Easter Eggs
br>