Every year, we celebrate Memorial Day at someone else's house. I've tried to talk The Nerd into buying a grill every single summer, but he just won't budge. He says he doesn't know how to grill, and isn't really interested in learning.
This year, I'd decided to put my foot down and get a grill, even if I had to use it myself. That is, until the lovely folks at Masterbuilt asked if I'd be interested in reviewing their Digital Electric Smokehouse.
For us, this was the perfect compromise. The smoker stays outside, so the house doesn't get too hot when cooking. It's easy to use and clean, and it doesn't involve open flame, which is what gave me pause about using a grill.
Even if you have a grill, the Masterbuilt Electric Digital Smokehouse is a great addition to your back yard. It adds delicious smokey flavor to your dishes. You don't have to closely monitor the food, like you do with a grill. Program the smoker for your desired temp, put in the meat, and you can monitor the food's internal temperature until it is done.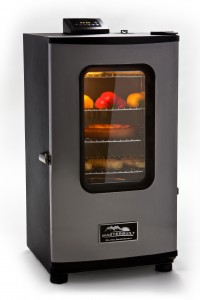 The integrated, streamline control panel with blue LED display makes reading temperatures and cooking time in direct sunlight easy. The improved drip-catching system makes for easy clean up. The full foam insulation keeps the heat in, making for consistent smoking.
I love that the smoker can be used for more than just meat. This recipe for Bacon-Wrapped Smoked Asparagus sounds amazing. You could also make Smoked Potatoes and Four-Cheese Smoked Mac 'n' Cheese.
We've already made ribs, hamburgers, and chicken in the smoker. They were really yummy and moist. I can't wait to try my hand at pulled pork and brisket in the smoker.
If you're looking for some yummy dishes to serve up this summer, check out "Dadgum! That's Good" and "Dadgum! That's Good, Too!" by John McLemore, CEO of Masterbuilt. With more than 135 new recipes for smoking, grilling and frying, there's something for everyone to try. See something yummy? The folks at Masterbuilt are offering one reader the chance to win a copy of each cookbook!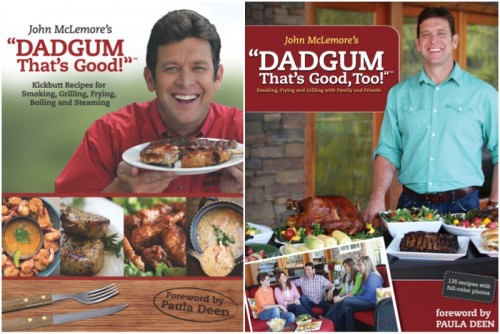 What are some of your favorite summer barbecue recipes? Have you ever used a smoker?
Disclosure: Masterbuilt provided and delivered the complimentary product to facilitate this post and giveaway. All opinions are my own.
br>