This post was sponsored by GOJO Industries, the makers of PURELL® Advanced Hand Sanitizer. The opinions are completely my own based on my experience.
LEGO Hand Sanitizer is a fun way to get kids excited about cleaning their hands and protecting against germs. I made several bottles to give to teachers for their classrooms.
With an active toddler, we get into our fair share of germs each day. It's important to take steps to prevent the spread of germs to reduce illness, so our family has joined the PURELL 30-Day Challenge.
While it's important to wash your hands with soap and water regularly, sometimes that just isn't an option. So we keep a variety of PURELL products on hand just for those times! I love the PURELL Advanced Sanitizing Wipes — they're great for wiping away dirt and other messes. Exactly what the mom of a sticky toddler needs!
We've committed to using PURELL products three times a day for the next month to help prevent the spread of germs. And you can join us! Visit the PURELL website to sign up for the challenge for the chance to win great prizes every day!
And with the school year ready to start, it's more important than ever to keep ill-ness causing germs at bay! Studies have shown that absenteeism caused by illness was 20 percent lower in classrooms that used PURELL Hand Sanitizer regularly and indicated a benefit to teachers as well. So this is the perfect gift for teachers!
LEGO Hand Sanitizer + Printable Teacher Gift Tags
Here's what you need to make LEGO Hand Sanitizer:
PURELL Advanced Hand Sanitizer pump bottle
LEGO blocks
Skewer or long stick
Remove the pump from the bottle and insert the LEGO blocks.
Single layer blocks that are only two wide in varying lengths work best. I couldn't get the blocks that are two layers to fit into my bottle.
Use the skewer to place the blocks where you want them to stay. Replace the pump and you're done!
For our teacher gifts, I removed the labels from the bottles using alcohol and then attached our printable gift tag!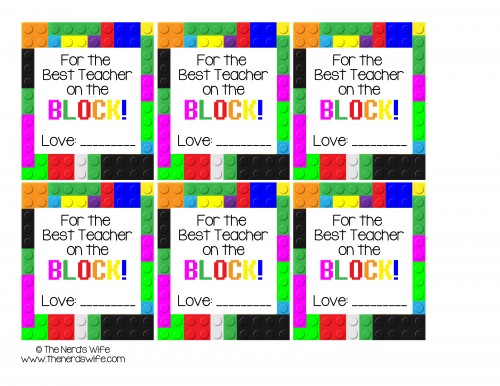 Click here to download this printable gift tag.
Fun, right?
br>