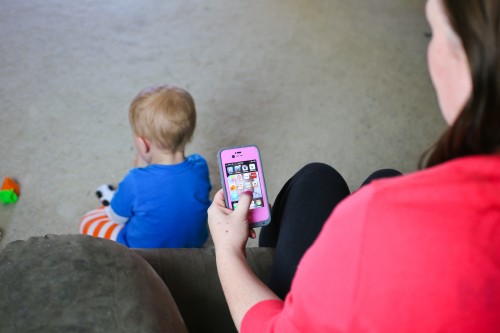 This is a sponsored post by me on behalf of LifeLock and Circle of Moms. All opinions are my own.
When I started blogging four years ago, my future son wasn't even something I considered. I read these blogs by women who shared photos of their lives and felt connected to them — and I knew that I wanted to do the same thing.
So when Andrew was born, I shared his birth story. I've shared family trips and birthdays and feelings with all of you. And it never occurred to me that those stories could be used to hurt my family.
In today's world, sharing online is something we all do. You check in on Facebook when you go out to dinner. Post a photo to Instagram when you find something fun at the store. Upload a Vine video when your kid does something cute.
But those actions could allow others to track your habits, locations you frequent, and other information to harm you or those you love.
Pam, a book blogger and publishing agent who I've followed since I first started blogging, learned this the hard way when she was attacked by an irate author whose pitch she had declined. Her attacker had used Foursquare to determine the route she took to pick her daughter up from school, and attacked her on the road.
And while I don't think we should completely exile ourselves and our children from the Internet, I do think there are ways to be smarter about what we share online. Here are some easy things you can do to keep your family safe online:
1. Only "check-in" places where lots of other people have been.
Make sure that when you "check-in" to a place on Facebook, Instagram or Foursquare that you aren't the only one there. Also make sure that many other people have used that "check-in." For a while, I'd tag photos on Instagram at my house. I've stopped doing that.
 2. Be careful who you allow to see your status.
I only accept friend requests on Facebook from people I know in real life. I also readily use the block function on Twitter and Instagram if a follower doesn't feel right. The most important thing is to go with your gut.
3. Check the default settings on your social media accounts.
Facebook updates are constantly changing things — make a point to regularly go into your settings and ensure you're only sharing the information you want to publicly.
4. Register a P.O. Box as your address online.
When we first moved into our house, I didn't think twice about using our home address to register my websites, buy things online, etc. Now, I've rented a P.O. Box and use it for all of my online info.
5. Consider signing up for LifeLock to monitor your information against identity thieves.
LifeLock is a suite of services (including credit monitoring) that work together to protect your identity from various risks including credit fraud. They relentlessly protect your credit and personal information from identity theft and fraud.
Have you taken any steps to protect your family's identity online?
FTC DISCLOSURE REQUIREMENT: The Nerd's Wife aims to provide unbiased editorials. However, I wish to disclose that from time to time I may receive free products or other compensation from companies for blogger reviews.
br>