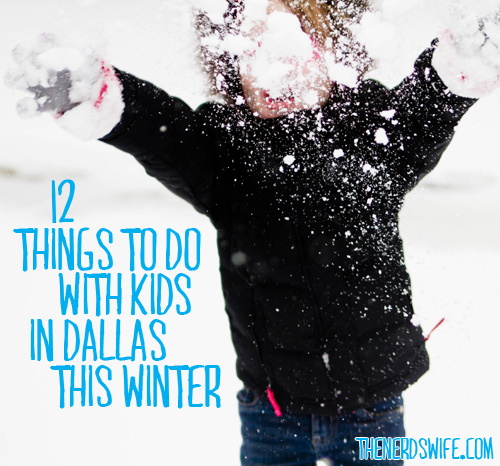 Don't know what to do this holiday season in Dallas-Fort Worth? Need to get the kids out of the house before you all go insane? This list of Holiday Events for Kids in Dallas is the perfect resource for moms who want to make some special holiday memories. Now, get out of the house and have fun!
12 Things To Do With Kids in Dallas This Winter
1. Have breakfast with Santa at the Adolphus Hotel, then stick around for the Dallas Holiday Parade! (Dec. 7, 2013)
2. Push all the little red buttons and see what happens at the Trains at NorthPark. (Nov. 23, 2013 – Jan. 5, 2014)
3. Meet a real-life reindeer at the Dallas Arboretum. (Nov. 30-Dec. 22, 2013)
4. Skate around the largest indoor Christmas tree in the country at the Galleria Dallas ice rink.
5. Enjoy a cup of hot cocoa as you watch the Celebration of Lights at Watters Creek.
6. Take a carriage ride to see the holiday lights in Highland Park.
7. Go as fast as you can down the ICE! slides at the Gaylord Texan.
8. Watch the snow fall during Christmas in the Square in Frisco. (More info.)
9. Drive through a spectacular holiday light show that runs for almost 2 miles at Texas Motor Speedway.
10. Take in a performance of The Nutcracker at Bass Performance Hall. (Dec. 13-Dec. 27, 2013)
11. Ride the Polar Express to the North Pole on the Texas State Railroad. (Nov. 15-Dec. 29, 2013)
12. Choose your own Christmas tree at Elves Christmas Tree Farm.
Click here to read more Things To Do With Kids in Dallas.
Now that you have a list of things to do in Dallas with kids this winter, check out the best places to visit Santa in Dallas!
What are some of your favorite things to do during the holidays?
br>