We love visiting Hawaiian Falls Roanoke! It is just down the street from our house, and it's got tons of amenities that are perfect for kids of all ages.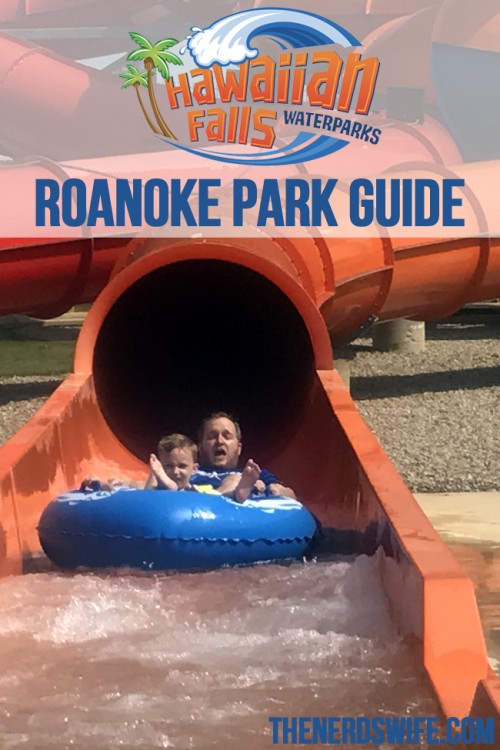 We've partnered with Hawaiian Falls this year to share their Summer of Awesome with you!
Hawaiian Falls Roanoke
We like to arrive early to the park and grab one of the shaded picnic tables right in front of the Mega Waterworld. My five-year-old son LOVES Mega Waterworld — there are tons of slides that are perfect for kids his age.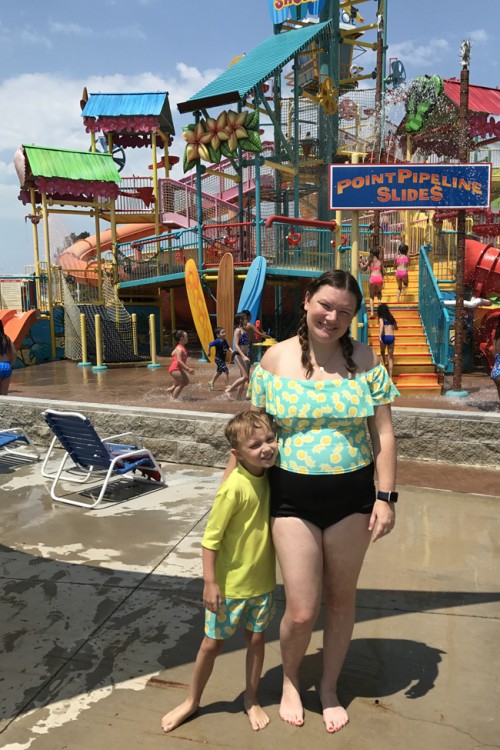 My husband and Andrew ran all over the play structure, going from slide to slide and having a blast.
The structure is pretty large and some of the slides come out on the back side, so if you have very little kids, I'd recommend following around. My son would go down a slide and then my husband would go down it too and meet him at the bottom.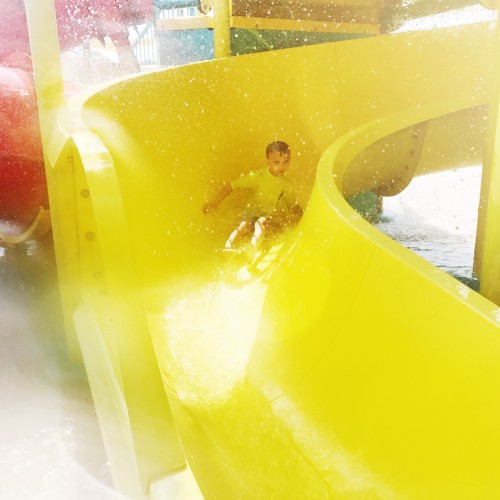 This is probably my favorite part of Hawaiian Falls Roanoke — the play area not only has little slides, but ones that bigger kids can enjoy as well. They are perfect "beginner slides" for kids who may not have worked up their courage to conquering the larger rides.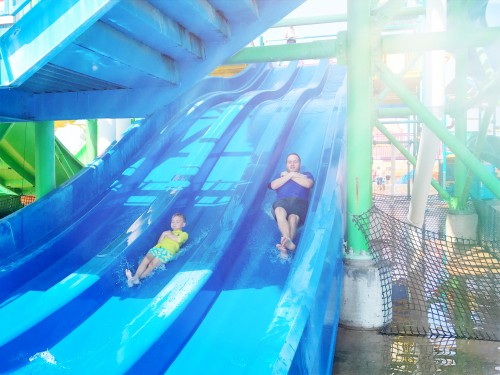 My husband and son loved the Pineapple Express racing slides — they had so much fun racing each other.
Our other favorite rides include the Rush and the Hawaiian Halfpipe. There are tons of slides, which is so much fun compared to other water parks we've visited.
We also enjoy cooling off in the Rainforest River Adventure — a lazy river with winding turns and waterfalls, and Breaker Bay, a large wave pool where you can watch movies during Friday Palooza.
One of the things that I love most about Hawaiian Falls Roanoke is that it isn't usually crowded. The parking lot is pretty far from the entrance, but they have shuttles that run to the entrance, so you don't have to walk far.
We like to go for a few hours in the morning when it's cooler, then head home when it starts to get too hot. As a season pass holder, I don't feel like we have to be at the park all day long to get our money's worth.
Make sure to check out the Hawaiian Falls special events if you plan on visiting this summer! There are so many fun things going on that you don't want to miss!
br>