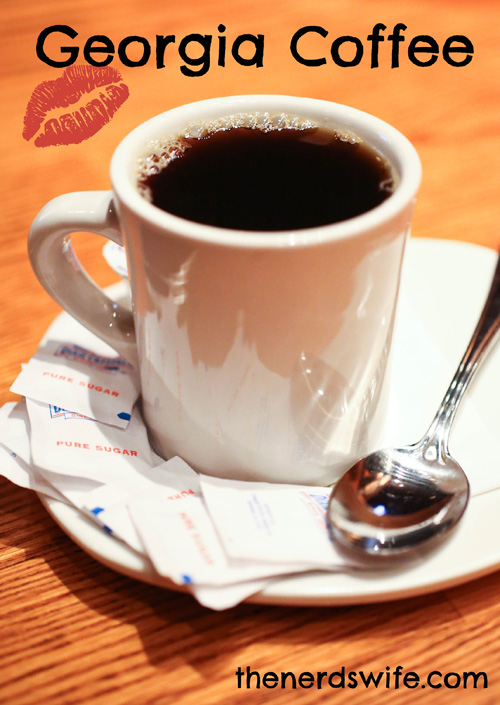 This is a sponsored post written by me on behalf of Georgia Coffee.
Have you ever had one of those weeks that you just wished was over? That you just had to get through? Yeah. I'm smack in the middle of one of those right now. You see, we leave for a trip to Orlando on Sunday. And while I'm super excited for our trip, there is SO MUCH to do between now and then.
Over the next five days, I have to finish up plans for our entire booth (the reason we're going to Orlando in the first place!), prepare snacks and treats for a class party, go on TV for an interview, drive to College Station for a football game with The Nerd's family, and PACK for Disney World and our trip.
Y'all. I'm stressed just thinking about it.
It's moments like these that I like to sit down with a good cup of coffee. There's nothing like putting your hands around a steaming mug and inhaling the rich aroma.
One of my favorites is Georgia Coffee. I like to go and grab a cup and get a few minutes alone. Of course, those precious minutes are usually spent browsing my phone to catch up from my hectic schedule.
I stopped in for a cup earlier this week. The rich flavors from all over the world made it easy to escape for a short time and forget about the things on my To Do List.
Made with 100% Arabica Beans, Georgia Coffee is available in three distinct flavors: Light Roast, Dark Roast and Decaf.
How do you get inspired to take on the day?
Share your perfect Georgia Coffee moment on Twitter using #TodayAwaits!
I can't wait to see what you share!
I partnered with Georgia Coffee to write this post. Although this post is sponsored, all opinions are my own.
For more information, visit http://www.georgiacoffee.com.