This post is sponsored by Aflac. I was compensated for writing it, but all opinions are 100% mine.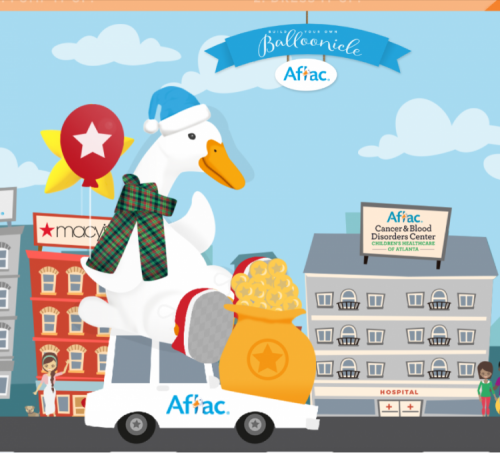 Childhood cancer is one of the most horrific things I have ever watched my friends battle. Thankfully, Aflac is passionate about the fight against childhood cancer!
Aflac has been supporting the fight for more than 20 years now and is inviting you to get involved this holiday season through their #Duckprints Campaign!
Build Your Own Balloonicle, where you can create your own Macy's Thanksgiving Day Parade balloonicle, featuring the beloved Aflac Duck!  Best of all, when you share your game experience on social media with hashtag #Duckprints, you will help generate a $2 donation toward children's cancer treatment and research (up to $1.5 million!) at the Aflac Cancer and Blood Disorders Center of Children's Healthcare of Atlanta.
Just because the parade is over, doesn't mean that you can't still participate!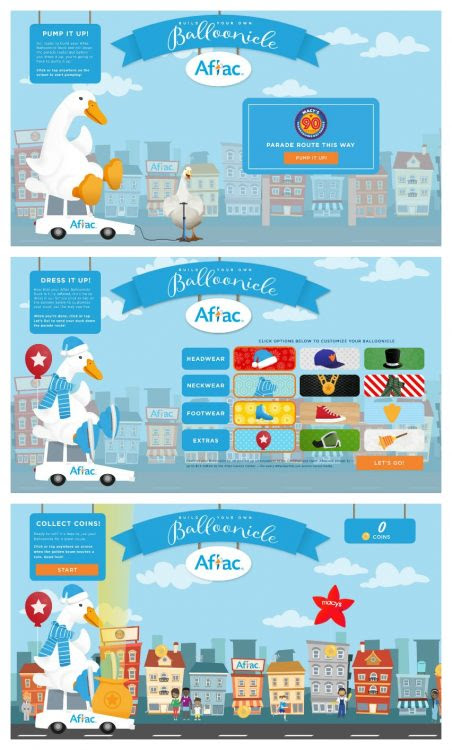 To get started in this awesome pay-it-forward game, simply visit www.aflac.com/parade to build your own balloonicle and play…then don't forget to share on your social channels!
When you play and share, it's likely that your friends and family will also play and share, therefore increasing both donations and awareness, with the ultimate mission of eradicating childhood cancer.
Please help me help my friends who have kids with cancer! One has a 10-year-old boy who is fighting against leukemia. He has experienced many, many rough days and is still fighting two years later. It's heart-wrenching to watch friends battle this horrible disease.
For more mobile fun, download Duckchat, an Aflac app (on Apple iTunes App Store or the Google Play Store) with Aflac Duck emojis and GIFs.  Aflac will also donate $2 (up to $1.5 million) with each download.
What are you waiting for? Leave YOUR footprint in the fight against childhood cancer!
Other fun Facts about Aflac:
This year marked the 90th anniversary of the Macy's Thanksgiving Day Parade, and it was the Aflac Duck's sixth year as a part of the festivities.
The Aflac balloonicle (a combination balloon and self-propelled vehicle) featured the Duck skating into town, complete with a blue hat and scarf. (Did you see it in the Macy's Thanksgiving Day Parade? It was so cute!)
You can follow the Aflac Duck on Facebook, Twitter and Instagram (@AflacDuck). Aflac's mission is very simple: eradicate childhood cancer. The company has donated more than $111 million towards research and treatment.
Going strong for 16 years, Aflac and Macy's have teamed up to offer a festive holiday plush of the Aflac Duck, with 250 Macy's stores participating across the country – or you can purchase online! The net proceeds from each plush sold are donated to the participating children's cancer facility nearest to where it is purchased. To date, Aflac has raised over $3 million through this program.
More about Aflac:
When a policyholder gets sick or hurt, Aflac pays cash benefits fast. For six decades, Aflac insurance policies have given policyholders the opportunity to focus on recovery, not financial stress. In the United States, Aflac is the leader in voluntary insurance sales at the worksite. To learn more about Aflac, visit www.aflac.com.
Aflac herein means American Family Life Assurance Company of Columbus and American Family Life Assurance Company of New York.
Z161288N     12/16
br>