One thing I didn't put too much thought in before my son was born was diaper rash ointment. As an inexperienced new mom, I thought all brands were the same. We got several different kinds as baby shower gifts, and I just planned to use whatever I happened to have. As the mom of a two-year-old toddler, I look back on my naive self and laugh.
I was recently asked to be a Dr. Smith's Diaper Rash Ointment Premium Parent — and I'm so proud to have the chance to represent this brand. This is our favorite Diaper Rash Ointment. I'll never use another brand again — and here are 5 reasons why.
1. The Texture
Dr. Smith's Diaper Rash Ointment is thick enough to slather on and create a nice barrier between your baby's bum and whatever nastiness could happen. That is key in preventing — and keeping away — diaper rash. It stays on, too, but isn't too thick so you feel like you're having to paint on the cream.
2. The Smell
Good Diaper Rash Ointment is designed to be water resistant — otherwise, it'd just wash off at the first sign of urine. So when you go to wash your hands after changing baby's diaper, the remnants of diaper rash cream will stick around. Trust me. I like Dr. Smith's because it doesn't have a distinctive odor. When I wash my hands, I can't smell it on them anymore. And that's good.
3. The Tubs
I hate carrying around giant tubes of diaper rash cream. One of the perks of having a toddler is that you get to carry around less stuff, right? I *love* the little tubs of Dr. Smith's Diaper Rash Ointment. They're the perfect size to fit into my purse without being obtrusive. One less thing for me to worry about as we head out the door!
4. The Support
Dr. Smith's is a family brand that has a very loyal following. And for good reason. Not only do they have a great product, they support great causes, too. They're a partner of the March of Dimes, and as a mom of a premature baby, I am proud to support their brand!
5. The Result
Y'all, this stuff works. That may just be the most important reason. With cold and flu season in full force, our house has seen its fair share of illness. Andrew has had RSV, strep, ear infections and colds. And with each round of antibiotics comes diarrhea. And with diarrhea comes diaper rash. We use Dr. Smith's and his diaper rash gets better so much faster. That's not something you can skimp on. A sick baby — or toddler — is just THAT much worse when they're uncomfortable down there. Do yourself a favor and pick up some Dr. Smith's along with that prescription.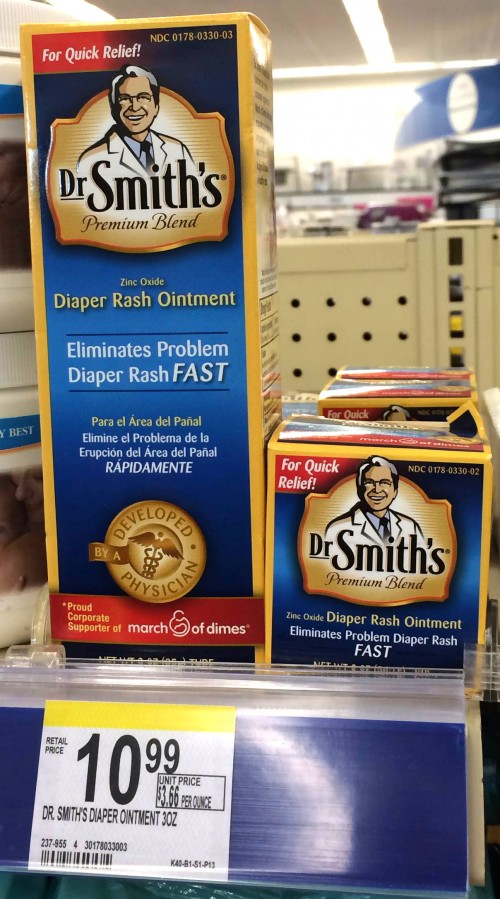 Dr. Smiths' Diaper Rash Ointment is available at Walgreens stores nationwide. You can also pick it up at Kroger and Walmart, too. Last fall, I had the chance to attend the product launch party, and fell even more in love with this product.
Have you had the chance to try Dr. Smith's?
br>