Are you getting ready for your child's classroom Valentine's Day party next week? I've got some easy handmade Valentines cards that you can print out at home and send to school.
These Valentines are perfect for toddlers who love to color. Use broken crayons from around your house and a heart-shaped silicon mold to make marbled heart-shaped crayons.
Your child's classmates will enjoy this fun and healthy treat, dressed up as a Cupid's heart. All you need is some GoGo squeez pouches and some crafting supplies.
My son *loves* Disney's Cars, and so these are the Valentines we're sending to school. Just attach a Cars-themed toy or Lightning McQueen figure and you're all set!
Print out these cards, which are perfectly sized for tubs of Play-dough! Your kids and their friends will love getting to play together with these fun Valentines.
If you've got a bubble-loving kid, these Valentines cards are perfect to send to school. Just attach some bubbles and you've got a cute and easy Valentine!
I'm not a huge fan of candy Valentines, but these Robot Valentine's Day cards are just too cute. Use heart-shaped candy to attach to the cards as the robot's heart. So fun!
Plus, check out these fun ideas from my favorite bloggers!
Looking for more inspiration?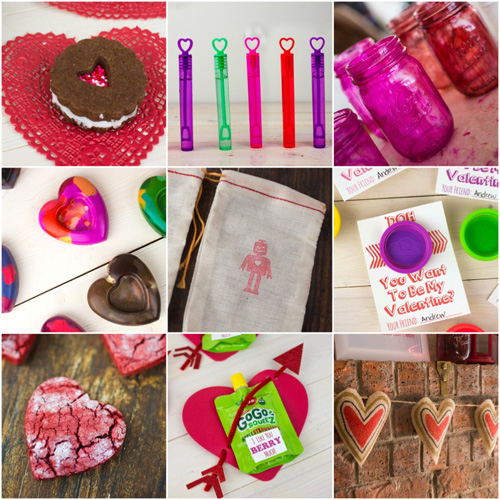 Valentine Sandwich Cookies | Bubble Valentines | DIY Colored Mason Jars
Heart Crayon Valentines | Robot Heart Valentines | Play-Doh Valentines
Red Velvet Crinkle Cookies | GoGo squeeZ Valentines | Burlap Heart Garland
br>