Since I first received the Droid RAZR from Verizon Wireless, it has become an essential tool in my daily life.
No, not because of the super-fast 4GLTE network — even though that is definitely a perk.
Not even because of the awesome wifi hotspot capability — although that's certainly a plus.
No, the reason I can't function without the Droid RAZR is because it is now my son's favorite toy.
You might think it's a little crazy that a six-month-old can recognize a phone and reach for it. And then throw a fit until Mommy hands it over. I completely agree.
I don't know when this shift occurred, when Andrew started recognizing that the little black box with a bright fun screen could actually DO things, but he knows.
Plus, the Gorilla Glass is strong enough that IF he drops it, the phone survives. Awesome, right!?
There are a few apps that we use every day that I wanted to share with you.
These apps are lifesavers. They allow me to actually be able to taste my food during dinner, instead of just wolfing it down as quickly as possible. They allow us to ride peacefully in the car on road trips. I can't count the ways that just five minutes of entertainment has made my life easier.
Toddler Lock
Free in the Google Play Store
This is my #1 favorite app for Andrew. It turns your phone into a fun, colorful screen that chimes and makes other fun sounds. Best of all, it locks your phone so that your child doesn't accidentally make a call or send a text.
Baby Toy
Free in the Google Play Store
This app is a lot like Todder Lock, except that it shows animals and instruments and even robots. When your child pushes one of the buttons, the animal (or whatever) will make a sound. Again, it locks your phone so they can't accidentally dial out. Great app!
Trunky Learns Letters
$2.23 in the Google Play Store
A fun, educational app that my niece and nephews adore. It's a bit old for Andrew, as it functions just like a video game. They love it so much… they sit and play it over and over again.  I highly recommend it!
Kid Musical Toys
Free in the Google Play Store
This is such a fun app! Your kid "plays" musical instruments by tapping the screen or even shaking the phone. It's so awesome to watch Andrew make noises with this app and then look at the phone like, WHAT was that!?
Netflix
Free in the Google Play Store
If Andrew is getting fussy on a road trip, this is our go-to app. He LOVES the Backyardigans because they sign and dance. It's so great to use this in conjunction with the Verizon Wireless 4GLTE network… no buffering and the video plays perfectly smooth.
Do you let your child use your phone? What are their favorite apps?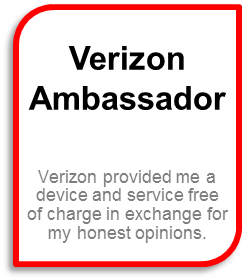 **Disclaimer** I am a Verizon Wireless Ambassador. I received a wireless device and phone/data plan free of charge to use for review and evaluation of Verizon Wireless products and services. As part of the program, I was asked to share my opinions with others, however, my opinions are my own. Please contact vzw@comblu.com with any questions about the Verizon Wireless Ambassadors' Program.
br>