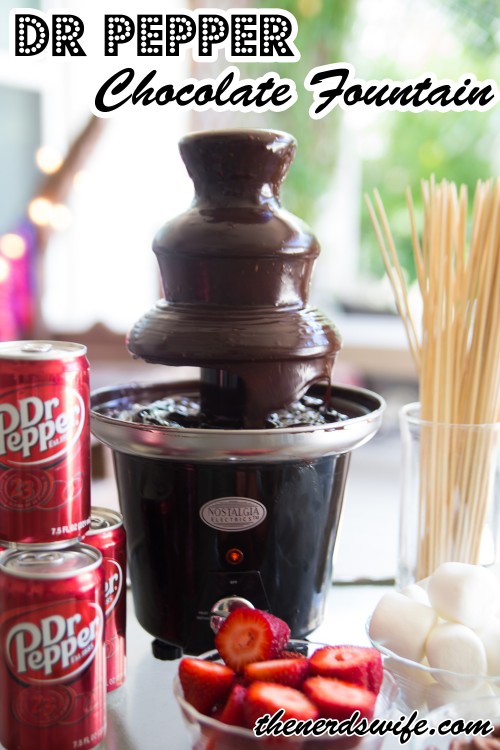 We are huge fans of Dr Pepper in our house. It's a staple for any party or get together. Another great thing for parties? A chocolate fountain! So I thought, why not combine the two?
This was so yummy — there's just a hint of Dr Pepper flavor, perfect for dipping strawberries, marshmallows, or pretzels. Andrew LOVED sticking the fruit on the stick and then putting it in the chocolate. So fun!
Dr Pepper Chocolate Fountain
Ingredients:
2 bags Semi-Sweet Mini Chocolate Chips
1 c Dr Pepper
3/4 c Vegetable Oil
Bamboo Skewers
Strawberries
Marshmallows
Pretzels
Chocolate Fountain
Directions:
Pour the chocolate chips into a large glass bowl. Add the vegetable oil and stir it in.
In a small saucepan, heat the Dr Pepper until it comes to a boil. Pour it into the chocolate chips and stir until the chips are fully melted.
Add to the chocolate fountain according to manufacturer's instructions.
Dip your favorite treats into the chocolate fountain using the bamboo skewers and enjoy!
 What's your favorite way to enjoy Dr Pepper?
br>