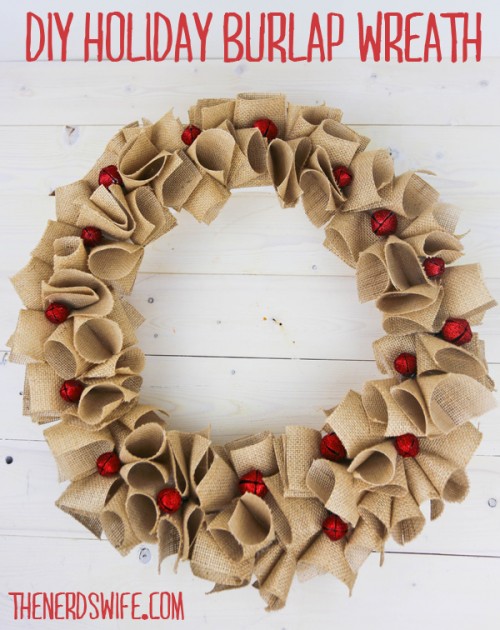 While we were out shopping this weekend, I found this adorable burlap holiday wreath, complete with jingle bells. If you're a regular reader, you know that I struggle every year to wait to put up holiday decorations. They are my secret vice! So I picked up the wreath, ready to make the $40 purchase. But then I thought: I can make that. And so I did. This burlap holiday wreath is really easy to make — you need just a few items to get started.
16-inch foam wreath form 2 rolls of laminated burlap (each roll measures 12″x47″) jingle bells thick floral wire hot glue gun lots of glue sticks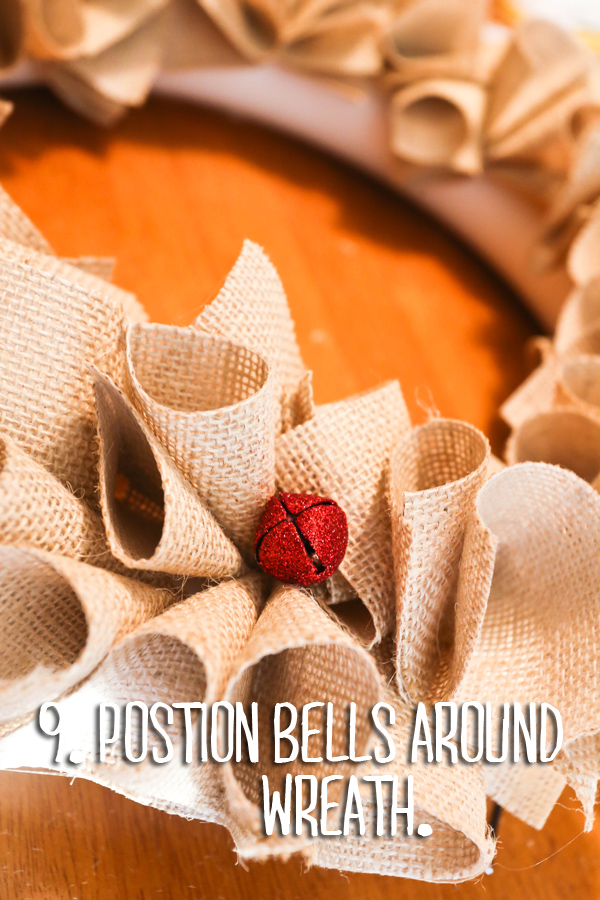 Start by cutting the laminated burlap into 4-inch squares. You'll then fold these in half, add a dot of hot glue to the center and fold again, securing with paper clips to allow the glue to harden. Take these pieces of burlap and glue them onto the wreath form, making sure to put them close enough together that no spaces show.
I used two whole rolls of laminated burlap, but the amount you will use will depend on how tightly you pack the burlap. Once the entire front of the wreath is covered in burlap pieces, string jingle bells onto the ends of pieces of thick floral wire. Then, position the bells around the wreath by adding a bit of hot glue to the opposite end of the wire and sticking it into the foam wreath form.
You have to be careful with the finished wreath, as it is very light and can be fragile. If the bells fall out, just push them back into the wreath form.
Now you've got a fun piece of festive holiday cheer without the $40 price tag! My supplies ended up costing just under $25. And I had a lot of fun making the wreath!
Looking for more ideas?
Make sure you check out my tutorial on how to make a Fall Mesh Poly Deco Wreath.
br>