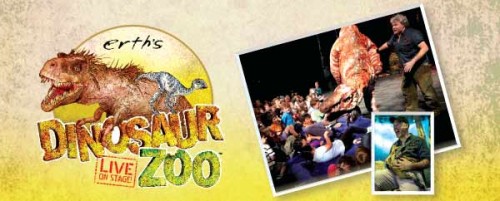 Erth's Dinosaur Zoo Live! will take the stage at the Majestic Theater in Dallas on January 18-19, and we've got the chance for you to win a Family Four Pack of tickets!
In addition to this giveaway, I was also offered tickets for my family to attend the show. I can't wait to take Andrew! He's on a Dinosaur kick right now, and I just know he is going to love it.
Erth's Dinosaur Zoo Live! brings an awesome array of prehistoric creatures to life on stage. The experiential theatre production takes audiences on a prehistoric journey to meet a menagerie of insects, mammals and dinosaurs that once roamed the planet millions of years ago. Featuring a large-scale cast of dinosaur puppets, these life-like dinosaur recreations connect children to paleontology in a fun and informative setting. This monster production will feature sixteen dinosaurs on stage. Children can watch and learn, but can also interact with the creatures in this fun, educational and unique presentation.
This will be one of the first stops on the National Tour, and we're giving away a Family Four Pack of tickets to the show on Saturday, January 18 at 10 am! The prize is valued at $200.
Enter by Monday, January 13, 2014 for your chance to bring the family to this one-of-a-kind event!
Who would you take to the show if you won?
br>