As the weather gets warmer, it's time to do some spring cleaning! I know I have lists and lists of areas things in my home that need attention: windows, flower beds, base boards. But one area of your home that may be neglected in your efforts is your foundation.
I know what you're thinking…foundation issues with your home can lead to costly repairs that you might not be financially ready for. But here's the good news: There are some things you can be doing BEFORE your foundation shifts to help prevent issues that arise.
I recently had a representative from Foundation Repair Solutions come out and evaluate our house. George was wonderful. He chatted with me while he analyzed our home, pointing out flaws in the structure and things I could do right now to help prevent future damage.
Our home is about 10 years old, and George said that movement in the foundation is normal in any home in DFW. In fact, he said that DFW is one of the worst areas for foundation movement – that's why you see very few homes in this area with basements.
The most common cause of foundation issues is erosion. And one of the best ways to prevent that is to keep moisture in the ground surrounding your home.
George suggested installing soaker hoses around the perimeter of our house so that we can continue to keep the ground saturated during the upcoming summer months. We have water restrictions in place in our city that only allow us to run our sprinklers twice a week. But there are no restrictions on soaker hoses, and we can use those to supplement our watering schedule, he said.
You can also add dirt around the perimeter of your home to ensure that the slat is covered at least half-way by dirt. Plant sod on top of the dirt to hold it in place and reduce erosion.
Common warning signs that your home has foundation issues are cracking in the freezer boards around the outside of your house, damage to sheetrock and doors that stick.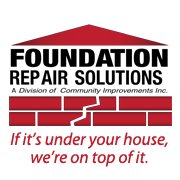 But the absolute BEST way to determine if your house has foundation issues is to schedule a FREE in-home estimate with Foundation Repair Solutions! Right now, if you LIKE their page on Facebook and schedule an in-home estimate, you can receive a $50 Visa gift card! Be sure to also follow them on Twitter – @FoundationRprSo.
I know that for many of us, the potential cost of foundation repair can be daunting. But Foundation Repair Solutions is one of the few companies in the DFW area who offer financing for their services.
And it's better to take care of any issues as soon as possible, rather than letting the situation get worse and incur higher costs to repair your foundation and remodel your home.
They also offer a lifetime transferable warranty. This means that any work you have done with them is guaranteed for as long as you own your home. And if you sell your home, you can transfer that warranty to the buyers. How awesome is that?
I'm really glad I had the opportunity to meet with George and learn all the ways I can be proactive about taking care of the foundation in our home. What are some ways you try to prevent foundation issues in your house?
Disclaimer: Foundation Repair Solutions sponsored this post and I am receiving compensation. All opinions are my own and information was provided by Foundation Repair Solutions.
br>