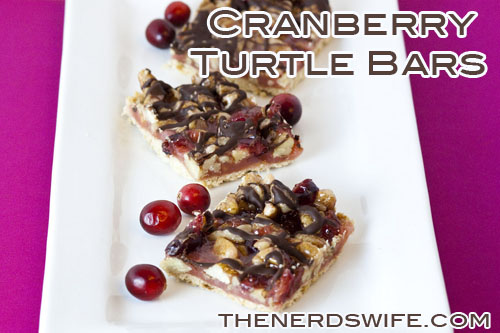 As soon as I saw this recipe, I knew I had to make it. And let me tell you, these bars were gobbled up so fast I only had a chance to eat one of them!
Cranberry Turtle Bars
Source: The Curvy Carrot
Ingredients:
For crust:
2 c all-purpose flour
1/2 c packed light brown sugar
1/2 tsp salt
1 and 1/2 sticks (3/4 cup) cold unsalted butter, cut into 1/2-inch cubes
For the topping:
2 sticks (1 cup) unsalted butter
1 and 2/3 c granulated sugar
1/4 c light corn syrup
1/2 tsp salt
1 and 1/2 c fresh cranberries, coarsely chopped
1 tsp vanilla
3 c pecans, coarsely chopped
For garnish:
2 oz fine bittersweet chocolate
Directions:
Preheat oven to 350 degrees. Line a baking sheet (with sides) with foil, leaving about a 2-inch overhang on the ends, so you can easily lift the foil out of the pan. Grease the edges of the pan (but not the bottom) with butter.
Blend flour, brown sugar and salt in a food processor. Add the butter and pulse until small lumps form. Pour into prepared baking sheet and press firmly to form a crust.
Bake 15 to 17 minutes, until golden and firm to the touch. Remove from oven and cool.
Now, for the topping! Melt butter in a 3-qt saucepan over medium heat. Stir in sugar, corn syrup and salt. Boil over medium heat, stirring occasionally for about 8 minutes until mixture reaches 245 degrees F on a candy thermometer.
Stir in cranberries and continue to boil until mixture reaches 245 degrees again. Remove from heat and stir in vanilla and pecans until coated.
Working quickly, pour the topping over the crust and spread in an even layer. While that cools, melt the chocolate and drizzle over the top of the bars. Cool completely.
Enjoy!
br>