One of my favorite things about the holiday season is Chocolate-Covered Cherries, so I couldn't wait to try these Chocolate-Covered Cherry Cookies. They are so yummy with a surprise inside!
Chocolate-Covered Cherry Cookies
Source: Taste and Tell
Ingredients:
1 stick melted butter
1 c white sugar
1 egg
1/4 tsp baking powder
1/4 tsp baking soda
1/4 tsp salt
1 tsp vanilla
1/2 c cocoa
1 1/2 c all-purpose flour
1 small jar maraschino cherries
1 c chocolate chips
1/4 c sweetened condensed milk
Directions:
Preheat oven to 350 degrees F. Melt the butter and mix in the sugar. Let it cool for a bit then mix in the egg. Beat in baking powder, baking soda, salt, vanilla and cocoa, mixing after each addition. Slowly add the flour and mix well.
Shape the dough into small balls and line up on a prepared baking sheet. Make a small indentation in the top of each ball, flattening the dough into a cookie shape in the process.
Place one cherry in the indentation of each cookie. Save the juice from the cherries if you drain them. I didn't, just pulled them straight from the jar.
Mix the chocolate chips and condensed milk in a double-boiler. Heat over a pot of simmering water on medium heat until melted. The mixture will be very, very thick. Add cherry juice a teaspoon at a time until the mixture becomes malleable and easy to shape. It took about 5 tsps of cherry juice for my mixture to reach the desired state.
Shape a bit of the icing over the top of each cherry, making sure it doesn't run down the sides of the cookie. Bake for 10 minutes. Enjoy!
Happy Holidays!
Don't miss these yummy holiday cookie recipes!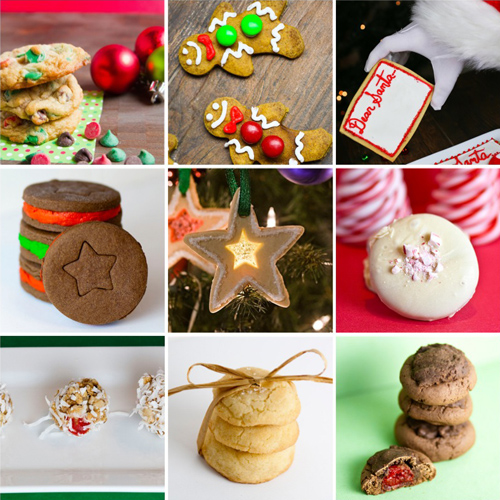 br>