Disclosure: I am a member of the Netflix Stream Team, and was provided with a year of service and an Apple TV. Each month, I'll be participating in challenges. All opinions are my own.
Ever since Disney's Frozen came out, my boys have been obsessed with musicals. So, I really wanted to find some uplifting and entertaining musicals for them to watch.
Netflix has such a great selection of classics and newer releases. While scrolling through, I saw Chitty Chitty Bang Bang and remembered that my husband loved it. We watched it for family night, and my kids were instantly sucked in. They ended up loving it! They have been singing the songs ever since.
I wanted to share in their love for the movie and thought a fun and healthy dessert would be the perfect thing. I was inspired by the colors in the movie to create this tasty treat. I hope you enjoy these delicious yogurt parfaits.
Chitty Chitty Bang Bang Yogurt Parfaits
Ingredients:
Greek Yogurt (We used pineapple Chobani)
3 Kinds of Fresh Fruit, rinsed and cut up if needed (We used raspberries, strawberries, and bananas)
Granola (We used Bear Naked Triple Berry)
Cups (We used Mason Jars)
Just let your kids layer it up. We used fruit on the bottom so that the yogurt wouldn't stick to the bottom of the jars.
My kids loved choosing what would go in next. This was the perfect afternoon activity and snack. With summer right around the corner, we will definitely be doing these again. They are so light and refreshing.
Go and check out Netflix's selection of musicals. They have so many. Maybe it will help you to find a new favorite to get "Let it Go" out of your head!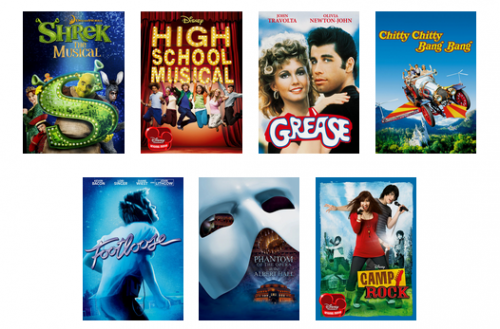 1. Shrek the Musical
2. High School Musical
3. Grease
4. Chitty Chitty Bang Bang
5. Footloose
6. The Phantom of the Opera
7. Camp Rock
What are some of your favorite musicals to watch with your family?
br>