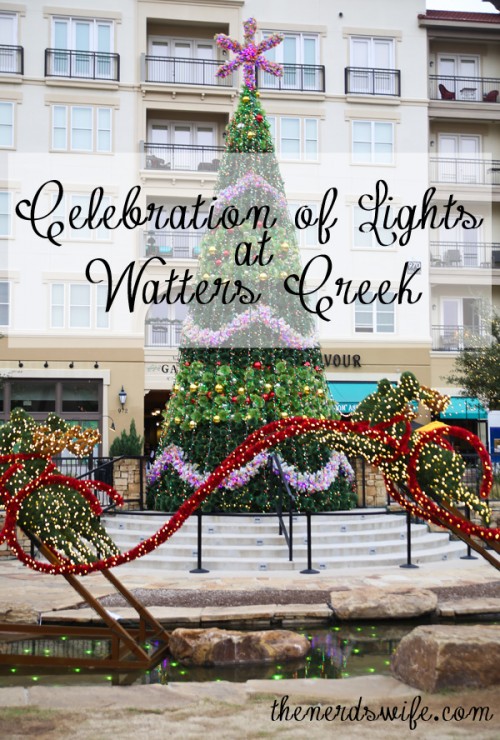 A few weeks ago, my family had the chance to attend a preview event of the all-new Celebration of Lights at Watters Creek, just north of Dallas in Allen, Texas. We had so much fun at the event — if you're looking for a fun activity to do with your family in Dallas this winter, you have to check them out!
One of our favorite stops was Santa's Cottage, where Andrew had the chance to meet Santa and take a photo. Unlike other Santa experiences, at Watters Creek, Santa got his own storefront so you don't have to stand outside in the cold! The cottage was warm and inviting, and Santa was a natural with Andrew. He had a fun book with twinkle lights that instantly captivated Andrew.
We've been working on familiarizing Andrew with Santa, so he was really excited when we went into the store. I couldn't have asked for a better Santa photo!
Watters Creek has a beautiful, large Christmas tree located just off the shore of the creek. Andrew loved looking at all of the sparkling lights.
Once the sun sets, the entire complex comes to life with beautiful holiday lights. Every half hour from 5:30 pm to 9:30 pm, the lights and Christmas tree animate with more than 145,000 lights synchronized to music. Andrew loved playing in the field next to the creek watching the show.
They also host free trolley rides and free horse-drawn carriage rides throughout the complex. Click here to see all of their holiday activities. And while you're there, don't miss the chance to catch up on your holiday shopping!
Looking for other fun things to do in Dallas this holiday season?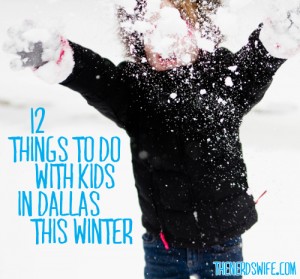 Check out my list of Holiday Events for Kids in Dallas.
br>