I am a member of the Collective Bias®  Social Fabric® Community.  This shop has been compensated as part of a social shopper insights study for Collective Bias and their client.
My cat, Frosty, is 15 years old — I got her during my seventh grade year in junior high. When Andrew was born, she quickly became *his* cat. He loves her so much — one of his first words was, "Kitty!"
She has gotten a lot more mellow in her old age, so we decided to try out one of the latest Internet memes — cat beards! This hilarious meme is all about sharing photos of you and your cat in an, umm, unusual way.
The key here is to gently hold your cat up to your face, positioning her so that her nose and mouth cover your own. Then take a selfie or have someone else take one for you. Congratulations! You are now the proud owner of a cat beard!
Note: Ridiculous faces are a requirement for excellent cat beard photos.
All silliness aside, any cat owner can tell you that one of the most important decisions you make is the kind of cat litter you purchase. Good quality litter can help improve your cat's health and mood. Plus, when guests come over, you don't want to worry about whether or not they can smell the cat litter.
I've been really impressed with the new and improved Fresh Step OdorShield cat litter — they've added chlorophyll and essential oils to the formula to eliminate odors naturally. Chlorophyll from plant extracts works as a filtering agent and soaks up odors to leave behind fresh, clean air. Essential oils are used to stop the growth of odor-causing bacteria and mold.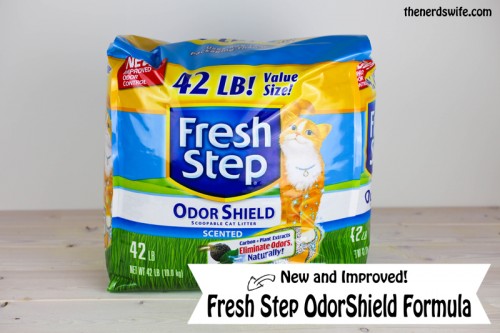 Now through Oct. 31, you can earn double Paw Points by purchasing the 42-pound value package at Sams Club! Go to the Paw Points Rewards website and log in. Enter your code from the package and click "Choose a Location" to select Sams Club. You can redeem Paw Points Rewards to earn things like toys for your cat, magazine subscriptions, or even donations to the ASPCA.
Do you have a cat? Fresh Step is sponsoring a Cat Beard Photo Contest where you could walk away with a $1,000 prize package, including a professional photo shoot for contestant and his/her cat and a $700 Sams Club gift card! To enter, upload your best cat beard photo to Instagram with the tag #ClubFreshStep. Make sure to submit your link on this post for an official entry in the contest. Entries will be accepted September 16-30, 2013.
Do you have a cat? Have you ever tried cat bearding?