I participated in this sponsored campaign on behalf of One2One Network. All opinions stated are my own.
Sometimes it seems like we are always in the car with all the trips that my family takes. And no one wants to be cooped up with a cranky kid on a road trip. My secret to having a happy toddler in the car is two-fold: the Evenflo Symphony LX and this Car Seat Activity Kit.
First, let's talk about car seats. They are *not* created equal. Since Andrew was born, we've had three different car seats. A car seat is an investment, so having to upgrade when he moves out of one class and into another feels like we're just constantly throwing money away. Once a car seat is used, I don't feel comfortable reselling it, so I feel stuck with it.
I've wanted to get Andrew a new seat for a while — his old one was bulky and it was reclined so that he couldn't sit up straight. The Evenflo Symphony LX was exactly what I was looking for.
It is designed for children 5-110 pounds, moving with your child through rear-facing infancy, forward-facing harness, and as a booster seat. Just buy one, and you're done — it's the only car seat you'll ever need!
My favorite thing about the Evenflo Symphony LX is definitely the SureSafe System. Did you know? 70% of car seats are incorrectly installed. The new Evenflo SureSafe System increases proper installation by 2x, compared to standard LATCH.
It features a Quick Connector LATCH and Guides that makes it super-easy to install and remove the seat from your vehicle. It's so easy, it increases installation by 2X compared to installation with standard LATCH hooks! The Quick Connector Latch guides act like a tunnel, making it a cinch to find your vehicles lower anchors. The Quick Connector LATCH easily attaches and detaches the seat from the vehicle with one hand — you just pull on a tab — for easy transition between vehicles.
As always, safety is a top priority. With e3 Side Impact Protection, the Evenflo Symphony LX features three layers of engineered foam designed and tested to reduce side impact forces by up to 50 percent.
Here in Texas, it's still HOT outside. I'm always afraid of burning Andrew's legs on the seat buckles when we get in the car. The Evenflo Symphony LX has Buckle Pockets protect your child from hot buckle burns and eliminate digging under your child for lost buckles. Awesome, right?
And let's talk about the cup holders. They. Are. Awesome! I can't tell you how many cups wouldn't fit in our other car seat's cup holders. The elastic band on these means they will hold most cups. So great!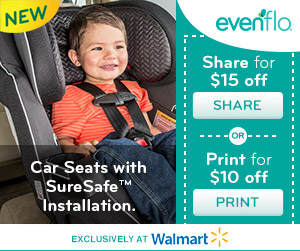 Click here for a coupon to save on the Evenflo Symphony LX, available exclusively at Walmart!
And now that you've got the first part of the puzzle, how about the second?
With the more upright position and all the leg room that my son has with the Evenflo Symphony LX car seat, I put together a Car Seat Activity Kit to keep him busy and entertained on long trips.
It's perfect to sit in his lap and give him access to all of his favorite things: Lego blocks, chalk, and books! You could even fill it with toy cars or other small items — so great!
Car Seat Activity Kit
Supplies:
12×12 plastic scrapbook storage (or similar plastic box)
Lego building plate (we used a Duplo building plate)
Plastic adhesive
Chalkboard Paint
Directions:
Paint the outside panel with chalkboard paint and allow to dry. This gives your child a place to color with their favorite chalk!
Use scissors to cut the building plate to fit inside the bottom of your plastic box, then use the adhesive to glue it into the bottom inside of the box.
Add Legos, favorite books, and other small toys for a fun adventure!
This will keep him entertained for hours…
What are some ways you help your child get comfortable in the car?
br>