I can't take credit for the deliciousness that is encompassed in these cookies. I have never really been a big fan of sugar cookies. They were either too crispy or too soft, and most of the time they tasted more like flour than anything else.
I made these sugar cookies for
Valentine's Day
. The secret is the almond extract. All the other recipes I've found use vanilla. I will never go back to vanilla. Never.
These cookies are just the right texture. And the flour is not overpowering. Add in the
Glac

é

Icing
(flavored with almond extract, too) and it's a delicious experience you just can't miss. I *love* these cookies.
And now I've taken them a step further. My dad mentioned to me how he thought the flavor of these cookies would really be enhanced by adding some dried apricots to the batter. Seriously? Apricots? Oh yes. Apricots.
So, I tried it. They are de-lish. No icing required. No sugar added to the top. The fruity apricots are enough to carry this cookie. So here's how to make 'em:
Apricot Sugar Cookies
Ingredients:
1 cup real butter
1 cup sugar
1 egg
1 1/2 tsp almond extract
3 cups flour
1 1/2 tsp baking powder
1/2 tsp salt
1 6 oz. package of dried apricots
Directions:
Cream butter and sugar until light and fluffy – about two minutes. Add in eggs and extract and mix to incorporate.
In a separate bowl, combine flour, baking powder and salt. Whisk to combine. Slowly add the flour mixture to the butter mixture and mix until completely combined.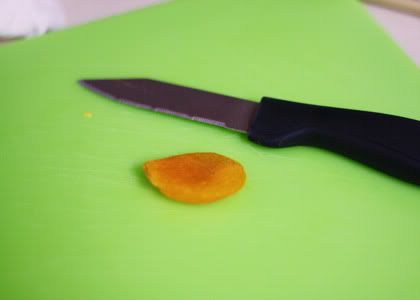 Cut the dried apricots into small cubes and add to the sugar cookie dough. Mix with a slick spatula, spreading the apricots throughout the dough.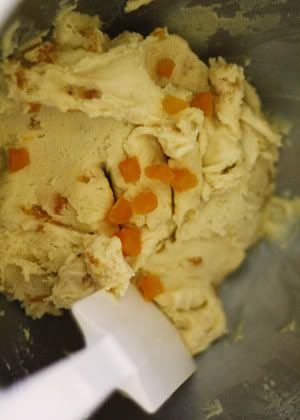 Roll the dough into small balls and place on a greased cookie sheet (or one lined with a Silpat) about two inches apart.
Press down on the tops of the balls with a glass tumbler with a smooth, round bottom. Flatten them into small discs about the same thickness.
Bake at 350 degrees for 10-12 minutes, until the bottom edges of the cookies have begun to turn lightly brown.
Let stand on the cookie sheet for a few minutes, then transfer to wire racks to cool completely.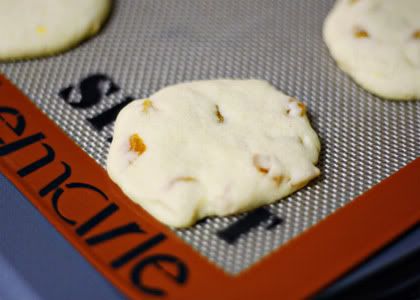 Y-U-M!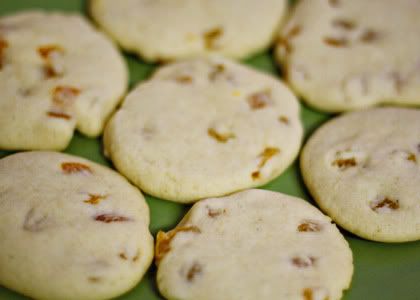 Don't these look delicious? It's so hard not to just gobble them all up!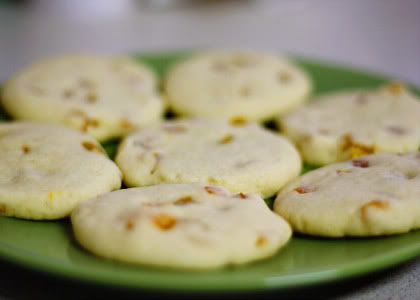 *Sigh.*
br>