This shop has been compensated by Collective Bias, Inc. and its advertiser. All opinions are mine alone.
One of the hardest things when traveling with a toddler can be getting them to go to bed without a fight. My toddler likes to be in the mix of everything, so he will fight as hard as he can to stay awake for as long as possible.
We're currently visiting my parents on the Texas Gulf Coast, so I came up with 5 Ways to Make Bedtime Easier When Traveling, including offering a nighttime snack of Kellogg's cereal!
1. Offer a snack.
After a long day of traveling, my toddler is usually pretty hungry at bedtime, even though we've just eaten dinner a few hours earlier. We are constantly on the go when we travel, so he burns through calories pretty quickly. And he's usually too excited from the day's activities to tell me that he needs a snack.
I've started offering some of his favorite Kellogg's cereals in a bowl with milk about an hour before bedtime — and it does the trick every time!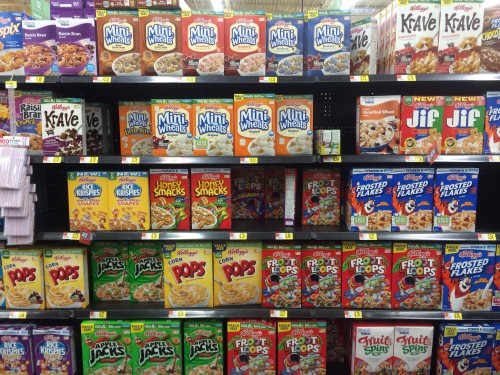 I make a point to stop by Walmart to pick up a box before our trip — it's easy to find, and even easier to pack. I can't wait to try the new Kellogg's® Jif™ Peanut Butter Cereal (which has a great peanut butter flavor) and the Kellogg's® Rice Krispies® Multigrain Shapes cereal (a lightly sweetened graham flavored cereal in fun shapes).
2. Let them wear special pajamas.
My son is on a huge Teenage Mutant Ninja Turtles kick right now, so we have a special pair of turtle pajamas that he only gets to wear on trips. That makes him excited for bedtime and WANT to put on his pj's!
3. Read them a bedtime story.
Again, with the Ninja Turtles. This board book is so simple to read, and the magnetic figures allow my son to use his imagination to make up his own story. This helps his mind wind down after a long day on the road.
4. Pick your battles.
See that turtle shell on his back? Yeah. That thing poked me about 56 times last night as we slept on an air mattress at my parents' house. But he wanted to wear it, and in the end, it didn't do any harm. When it comes to a peaceful bedtime, sometimes you just have to pick your battles.
5. Talk about your plans.
If all else fails, I find that if I share a little of our plans for the next day, my toddler will go to sleep easier knowing what's ahead. It can also be enticing — "Do you want to go to the beach in the morning? Well, we need to go to sleep so we'll be rested and can play all day." Just explaining WHY we are going to be (to have EVEN MORE FUN tomorrow!) can help him settle down and rest.
What works best for your family?
br>