Three days ago, I launched a contest for *signed* copies of Shiver and Linger by Maggie Stiefvater.
The contest was live for 48 hours.
I dubbed it the "Wolves of Mercy Falls" giveaway and set it on its way.
I had no idea what I was in for.
Over the course of *two* days, 162 people entered the giveaway.
Those entrants tweeted, Facebooked and howled their way to 501 entries.
How *amazing* is that?
And, this lowly little blog went from 280-something followers to 420 followers!
Seriously, you guys rock!
Now comes the fun part — naming the winners!
To determine the winners, I made a spreadsheet with each entrant's name listed one time for each of their entries. So, if you had six entries, your name was listed six times in the spreadsheet.
Then, I mixed the names up by sorting them randomly.
Finally, I used Random.org's random number generator to come up with two numbers between 1 and 501.
Congrats, Tiffany! You will receive *signed* copies of Shiver and Linger, purchased by me for this giveaway.
Congrats, Reena! You will receive a copy of
Linger
, provided by
Scholastic
.
I've e-mailed both winners. They have 48 hours to respond and claim their prizes.
I had a TON of fun participating in the Got Books? Event.
I hope you guys enjoyed all of the giveaways from the participating blogs.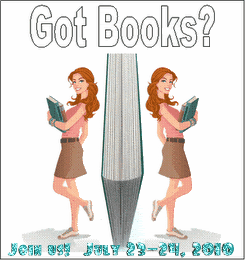 A *HUGE* thanks to GMR and The 1st Daughter for hosting this amazing event!
Finally, thanks to everyone who entered! I am humbled by the response and I appreciate you all so much!
br>