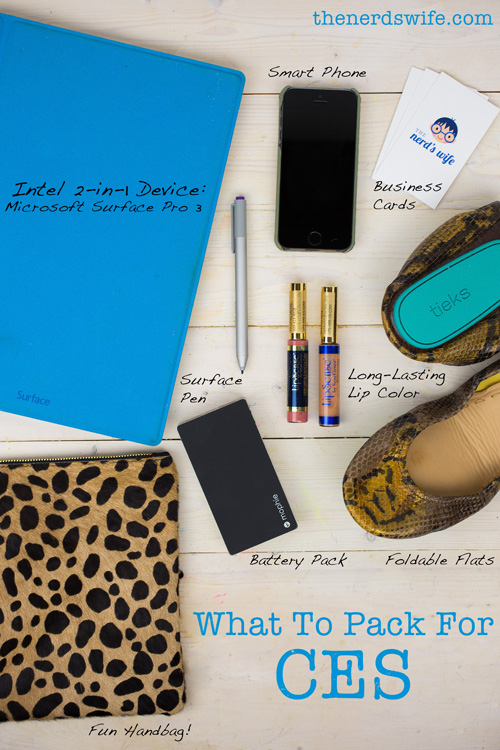 Surface Pro 3 | iPhone 5s | Business Cards | Surface Pen | LipSense Lip Color
Tieks Foldable Flats | Mophie Battery Pack | Leopard Clutch
Next week, I'm headed to the Consumer Electronics Show in Las Vegas and I'm so excited. It will be my first year attending, and I've been in planning mode the last few weeks. I wanted to share What to Pack for CES.
Like all conventions, you've got to be prepared for lots of walking and long hours on the convention floor. It's important to have everything you need on hand, but you also don't want to carry too much.
What to Pack for CES

I'll be carrying my Microsoft Surface Pro 3 throughout the convention. This Intel 2 in 1 doubles as a laptop and tablet, allowing me to take notes quickly, or sit down and get some real work done. As a blogger, I'm always switching between tasks, and the flexibility of the Surface makes that so easy.
The Surface Pen is an integral part of my workflow with the Surface Pro 3. Just one click and it opens OneNote, which allows quick and easy note-taking. I've started a CES 2015 notebook and added the convention schedule and maps to it.
The slim design of the Surface Pro 3 makes it easy to add to my bag, along with my other CES supplies. I can't believe how it's become an integral part of my everyday life — from checking social networks to editing photos and writing blog posts, I knew I couldn't leave it behind on this trip.
A smartphone (like my iPhone 5s) is a must — especially when you plan on tweeting and sharing all that you see at the convention. And you'll also need a portable battery pack (like the Mophie power pack) to charge up your phone when it starts to get low.
A stack of business cards is important for any networking event that you attend. I like to keep my design simple and clean, to allow notes to be written on them.
You also want to make sure to look professional, so a pair of foldable Tieks flats are perfect. They allow you to trade fashionable heels for comfy flats to easily transition from business attire to show floor casual.
Long-lasting lipstick is another must, and my favorite is LipSense from SeneGene. It lasts up to 18 hours — so you can just put it on and don't worry about it again!
And, of course, a cute handbag to carry all your supplies is a necessity!

What are you excited to see showcased at CES?

Make sure to follow me on Twitter and Instagram to keep up with my adventures there!

#spon: I'm required to disclose a relationship between our site and Intel This could include Intel providing us w/content, product, access or other forms of payment.
br>