I have the *perfect* spring dessert for you today!
When the folks over at the Cooking Club of America asked me to review one of their recipes, I knew this carrot cake was the one for me. I just loved the idea of adding crushed pineapple to the recipe. Genius!
The Cooking Club of America is a great resource. They have hundreds of recipes that you can peruse and their daily newsletter (Food Now!) is awesome.
And, they have a great offer for readers of The Nerd's Wife! You can get a free issue of Cooking Club magazine, just by visiting their site!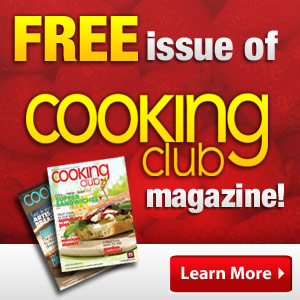 How awesome is that? Oh, and you definitely need to like them on Facebook! They have weekly giveaways that seriously ROCK!
Now, back to the carrot cake. Anyway, this cake is great. It's so delicious and moist. The cinnamon flavor is complimented by the pineapple and coconut. It is seriously YUMMY.
Add some cream cheese frosting to the top, and you're in heaven.
Welcome Spring Carrot Cake
Source: Cooking Club of America
Ingredients:
2 c all-purpose flour
2 tsp ground cinnamon
2 tsp baking powder
1/2 tsp baking soda
2 c sugar
1 1/2 c canola oil
4 eggs
2 c shredded carrots (2 to 3 carrots)
1 (8-oz.) can crushed pineapple, well-drained (1/2 cup)
1/2 c sweetened flaked coconut
1/2 c chopped pecans
1 (8-oz.) pkg cream cheese, softened
1/2 c butter, softened
1 tsp vanilla extract
3 3/4 to 4 c powdered sugar
Directions:
Preheat oven to 350 degrees. Spray a cake pan with flour-based cooking spray.
Whisk together the flour, baking power, baking soda and cinnamon.
In the bowl of a stand mixer, beat together the sugar and canola oil for two minutes. Add the eggs one at a time, mixing after each addition.
Mixing on low speed, slowly add the flour mixture, beating until just moist. Stir in the carrots, coconut, pecans and pineapple.
Bake for 50-55 minutes until cake is golden brown and a toothpick inserted in the middle comes out clean.
Meanwhile, mix the cream cheese, butter and vanilla together on medium-low speed until smooth. Slowly add in powdered sugar, mixing completely until it reaches spreading consistency.
When the cake is ready, cool completely on a wire rack. Frost as desired.
Enjoy!
br>