Hi y'all! Jet here with three outfit ideas for Valentine's Day. Whether your style is casual, fun and flirty, or you are going for a romantic look, we can all pull a wonderful outfit out of our closets. I have three ideas that should fit any occasion.
Shirt: Gap | Vest: American Eagle (similar style) | Pants: Lululemon (similar style) | Boots: Jessica Simpson | Sunglasses: Gucci | Necklace: Helzberg Diamonds (c/o)
This first outfit is more casual, but I dressed it up with this beautiful double infinity necklace. Inspired by the ABC show Revenge (which I am totally addicted to!), this necklace is perfect with any outfit. It adds the just the right amount of sparkle. It would make a great Valentine's Day gift, even if you have to hint to get it!
I love the necklace so much, I had to add it to each of my Valentine's Day outfit inspirations. When you have a great piece like this, it just becomes a staple in your style.
Shirt: Old (similar style) | Skirt: Leanne Barlow | Heels: Old (*loving* these) | Sunglasses: Gucci | Necklace: Helzberg Diamonds (c/o)
This outfit might just be my favorite. It is so fun yet so comfortable at the same time. Every time I wear this, I get so many compliments. I also love the idea of pairing t-shirts with dressier items. It totally creates a not-so-put-together look and that is TOTALLY my style. I could wear this all day long.
Shirt: Choies (this one is cute, too!) | Dress: Old (similar style) | Heels: Old (*loving* these) | Sunglasses: Gucci | Necklace: Helzberg Diamonds (c/o)
This last one is definitely for a dressier occasion. I wore this when my husband and I went on a date to see the Broadway musical, Beauty and the Beast. I felt so elegant and beautiful. It is actually a dress and then I layered this beautiful peplum top over it. I love pulling two pieces together to create something new. It is how I "shop my closet."
No matter what your Valentine's Day plans are, I hope that you find something that makes you feel beautiful.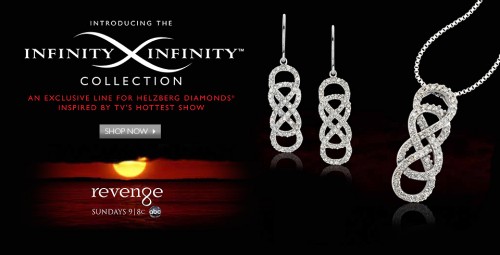 And if you need an idea for a gift or for something you want to receive, make sure to check out Helzberg Diamond's INFINITY X INFINITY jewelry collection. There are so many beautiful pieces that would make a unique way to share infinite love with someone special.
br>