A few weeks ago, when we attended our five-year reunion at Texas A&M, we stopped in to stay the night with our friends in Houston. On our way, we realized that the GPS in the car was taking us on a terrible route that would lead straight into rush hour traffic. But luckily, we had the turn-by-turn navigation on the Samsung Galaxy S3 to turn to!
It's so easy to use and it accounts for traffic. See the green light in the photo above? Traffic was flying. Then it turned yellow when we got into some difficult traffic.
I love that the app warns you when a turn is coming up and it's loud enough to hear the navigator's voice in a noisy car.
Plus, the maps are up to date, so that's even better! This is hands-down the best navigation app on a smart phone I've seen.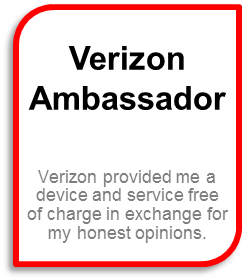 **Disclaimer** I am a Verizon Wireless Ambassador. I received a wireless device and phone/data plan free of charge to use for review and evaluation of Verizon Wireless products and services. As part of the program, I was asked to share my opinions with others, however, my opinions are my own. Please contact vzw@comblu.com with any questions about the Verizon Wireless Ambassadors' Program.
br>