EDITED: The contest is now closed.
Last month, I had the chance to meet the amazing, adorable, wonderful Stephanie Perkins, author of Anna and the French Kiss and Lola and the Boy Next Door.
She stopped by the Irving Public Library to discuss her debut novel, Anna and the French Kiss.
Stephanie read from the beginning of Anna. She was so fun and full of life, talking about how she channeled a lot of herself and her insecurities into Anna's character.
"A few months ago, my father enrolled me in boarding school," she read. "His air quotes practically crackled over the phone line as he declared living abroad to be a 'good learning experience' and a 'keepsake I'd treasure forever.' Yeah. Keepsake. And I would've pointed out his misuse of the word had I not already been freaking out."
In her voice, Anna practically jumped off the page and joined Stephanie on the stage.
Stephanie talked about how she had always wanted to write children's literature, but in college, her professors frowned upon her preference. Serious authors wrote serious novels, they told her. So Stephanie struggled for years to write an adult novel.
She finally gave in to her desire to write a young adult story, and thus, Anna and the French Kiss was born.
Where'd she get the idea for the story? She had a dream about St. Claire. I bet that was one heck of a dream!
I really, truly LOVED Anna and the French Kiss — so I wanted to share the love with you!
And you know what that means … a giveaway! I picked up an extra hardcover of Anna and had Stephanie sign it for you! But wait… that's not all!
Because I know that you won't be able to get enough after Anna, I'm also giving away an Advanced Reader's Copy of Lola and the Boy Next Door, Stephanie's next book! It will be released on Sept. 29 from Dutton Books.
*****
There will be two winners.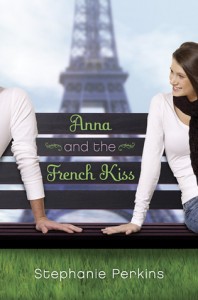 Winner #1 will receive a *signed* hardback of Anna and the French Kiss by Stephanie Perkins.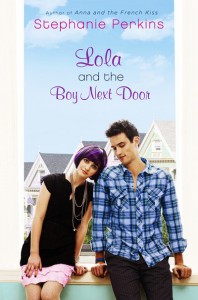 Winner #2 will receive an Advanced Reader's Copy of Lola and the Boy Next Door by Stephanie Perkins.
The Rules:
Only one entry per person.
The contest is open INTERNATIONALLY.
Contest ends on 7/20/11 at 11:59 PM CST.
You *must* be a follower of my blog to enter. To become a follower, just click the "Join this Site" button on the right side of your screen and sign in with your Google, Twitter or Open ID account.
If you are a new follower, you will receive 1 entry.
If you were a follower prior to the start of this contest, you will receive 2 entries.
Fill out the form below to enter. Do not leave your entry in the comments.
If you have any questions, you can consult my contest policy.
Increase Your Chances:
Complete the following tasks to increase your chances to win!
+2 – Become a fan of The Nerd's Wife on Facebook.
+2 – Follow me on Twitter.
+3 – Tweet about this contest. Sample tweet: Stephanie Perkins giveaway: ARC of Lola and the Boy Next Door & signed Anna and the French Kiss from @thenerdswife: http://su.pr/1RGHbj
+3 – Post about the contest on Facebook. Tag The Nerd's Wife Facebook Page in your post so I can track.
+3 – Include a link to this contest in your blog's sidebar. The link must be there when the winner is drawn on or about 7/21.
+5 – Post about the contest on your blog. Include a link to the contest in your post for the entry to count.
Contest Ends Wednesday, July 20 at 11:59 p.m. CST.
Winner will be announced on or around July 21 and the books will be sent soon after.
Thanks for looking!
br>