We love celebrating the holidays as a family in Dallas. There are so many activities to do and events to attend. But our favorite so far this year has been Sparkle! Christmas at the Hilton Anatole Dallas.
We were invited to celebration Sparkle! Christmas at the Hilton Anatole Dallas last weekend with a one-night staycation. It was so much fun — there were so many things to do that our family was busy the whole night!
Sparkle! Christmas at the Hilton Anatole Dallas
Gorgeous decorations and holiday activities lend a festive spirit to the event, which takes place inside the Trinity Ballroom at the Hilton Anatole Dallas. I loved that the event was inside — it was a nice respite from the crazy Texas weather, which decided to dump rain on us all day Sunday.
Activities include meeting Santa at Santa's Hilltop slide, listening to Rudolph tell a story at the Reindeer Stalls, holiday crafts, a velcro wall, presentations on the main stage from groups like the Dallas Zoo, games, photo opps, bounce houses, and more! We had a hard time prying our three-year-old away from the bounce houses — if we would have let him, he would have stayed in there the whole trip. Another favorite was the huge inflatable slide.
Of course, we couldn't pass up the indoor ice skating rink. James loves ice skating, so getting the chance to take Andrew out on the ice was so exciting for him. They both loved it!
We also had to stop by the face painting booth. It was reasonably priced and the wait wasn't too long. They had tons of different winter-themed designs to choose from. Andrew picked out a penguin. It was so cute!
On Sunday morning, we attended Breakfast with Santa. The event got us into Sparkle! Christmas at the Hilton Anatole Dallas early, and we had a delicious buffet breakfast. Santa came to each table and took a few minutes to chat with each child.
It was amazing to watch Andrew interact with him. I wish I could have heard what he was telling Santa! So magical. Once we were done eating, we were free to enjoy the other activities. It was great to get in a bit early and beat the lines.
Sparkle! Christmas at the Hilton Anatole Dallas

The event runs Friday, Nov. 28, 2014 to Sunday, Jan. 4, 2015. Tickets are $19.95 for ages 13-64, $15.95 ages 4-12, free for ages 3 and under. Seniors 65+ are $15.95. Click here for more information.
Check out these Sparkle! Fun Packages and enjoy a hotel stay with your admission.
Looking for other fun winter activities?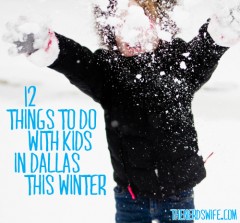 Don't miss these 12 Things To Do With Kids in Dallas This Winter!
br>