Last week, I had the chance to preview Roa's Aviary at Aquatica in SeaWorld San Antonio before it opened to the public. It's really cool, and I wanted to share some photos from the event with you.
This 13,500-square-foot aviary will contain 300 birds representing more than 50 species, some of which are considered threatened or endangered. Currently, there are about 100 birds, but they will be adding more in the coming months.
Andrew made fast friends with Luke, whose mom blogs at The sTORIbook, and they were excited to use their new binoculars to go see the birds. The boys also enjoyed playing in the sand together over at Loggerhead Beach.
Guests can float, wade or walk among hundreds of tropical birds inside the aviary, which is located in the Loggerhead Beach area of Aquatica. You can access the aviary by floating along Loggerhead Lane river, walking through Loggerhead Beach or wading in a new pool with a grotto-style waterfall.
You also have the opportunity to hand feed birds, as SeaWorld aviculturists and educators are on hand to teach guests about these amazing animals. Currently, there is no charge when food is available as the birds become acclimated to their new home.
Our favorite way to access the aviary was the new wading pool. Andrew had so much fun playing in it and splashing, and then going through the waterfall to go into the aviary. There's even a pool inside the aviary with chairs where you can sit and watch the birds. So fun!
We had a blast checking out Roa's Aviary at Aquatica in SeaWorld, and it's definitely something you don't want to miss when you visit the park!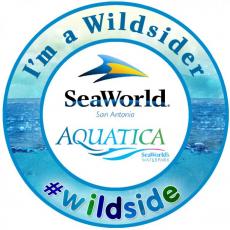 Disclosure: I'm a SeaWorld Wildside blogger. I receive complimentary passes for my family and other perks throughout the year. All opinions and photos are mine.
br>