"Sophie Mercer thought she was a witch.

That was the whole reason she was sent to Hex Hall, a reform school for delinquent Prodigium (aka witches, shapeshifters, and fairies). But that was before she discovered the family secret, and that her hot crush, Archer Cross, is an agent for The Eye, a group bent on wiping Prodigium off the face of the earth.

Turns out, Sophie's a demon, one of only two in the world—the other being her father. What's worse, she has powers that threaten the lives of everyone she loves. Which is precisely why Sophie decides she must go to London for the Removal, a dangerous procedure that will destroy her powers.

But once Sophie arrives she makes a shocking discovery. Her new friends? They're demons too. Meaning someone is raising them in secret with creepy plans to use their powers, and probably not for good. Meanwhile, The Eye is set on hunting Sophie down, and they're using Archer to do it. But it's not like she has feelings for him anymore. Does she?"       — Description from GoodReads
A while ago, I posted about this amazing little book called Hex Hall by Rachel Hawkins. There is nothing to say except I simply loved it.
The follow-up to Hex Hall hits store shelves today — and you have to do yourself a favor: Go pick it up. Now. This instance. What are you doing still reading this blog post?
Well, if you insist on staying, let me tell you a little about why I loved Demonglass even more than its predecessor. And that's saying a lot.
Sophie Mercer is simply one of the *loudest* characters in the Young Adult genre today. And by loud, I mean, she has a *great* voice. You could read the pages of Demonglass and know *exactly* when Sophie is talking (or thinking or whatever) — she just has that much of a voice. It's like Sophie jumps off the page and into your brain and you find yourself using words like lame-sauce and thinking about how nice it would be to own a vampire pony.
And Archer Cross. Can I say swoon? Forbidden love makes everything better.
Add to the mix some demons with unknown origins, an absentee father who resembles Colin Firth in his Bridget Jones' Christmas sweater (at least in my mind), and lots of explodey bits, and you've got a page-turner that will keep you up late into the night.
A cliff-hanger ending brings it all nicely to a close leaving you *dying* for Book #3.
I can't *wait* to see how this whole thing ends.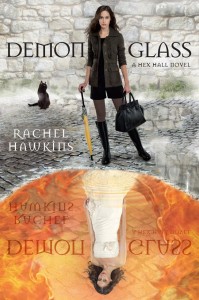 Demonglass is available from Amazon.
br>