With school starting up again, Netflix encouraged us to take some time this month to teach our kids about kindness. I really feel that kindness starts at home. We need to teach the importance of kind words and kind actions.
We enjoyed a few episodes of Daniel Tiger's Neighborhood which explained kindness. We discussed how we could show someone kindness. My boys decided that they wanted to make cookies and take them to someone. While talking about who we should pick, we talked about who shows us kindness and how it makes us feel.  My boys decided to make and take the cookies to Grandma. Since they are still young, I feel that it is important for them to make the decisions and feel comfortable doing them.

My boys loved all of our activity and it made them feel so good while showing love to Grandma.
Here is our go-to cookie recipe. They have a crunchy outside and gooey center. They are delicious.
I hope that this inspires you to show kindness and you enjoy these delicious cookies!
Really Good Chocolate Chip Cookies
Yields about 2 dozen cookies
Ingredients:
1 1/4 c shortening or butter (I always use butter)
1 1/2 c brown sugar
1 1/2 c white sugar
4 eggs
1 1/2 Tbsp sour cream
3 tsp vanilla
1 2/3 tsp salt
5 c flour (I used whole wheat)
1 tsp baking soda
1 tsp baking powder
1/8 tsp cream of tartar
2 c chocolate chips (I used a mix of dark and milk chocolate)
Directions:
Preheat oven to 350 degrees.
Cream butter and sugars together. Add in the eggs and sour cream and mix it slightly. Add the vanilla and salt just until they are incorporated.
In a separate bowl, mix all of the dry ingredients together. Then mix all of the dry ingredients with the wet ingredients. Do not over mix.
Add in the chocolate chips. Create small balls and place on a greased cookie sheet.
Bake for 10-13 minutes depending on size. Let cool on a cooling rack and enjoy!
*The key is to not over mix and to not touch the dough too much.
Ready to spread some kindness with your family? Check out these great Netflix titles!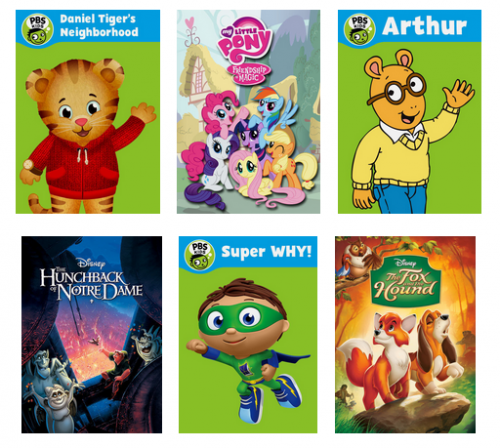 1. Daniel Tiger's Neighborhood, Vol. 1 Ep. 6: Friends Help Each Other
2. My Little Pony: Friendship is Magic, Season 3, Ep. 4: One Bad Apple
3. Arthur, Season 15, Ep. 8: Muffy's Classic Classy Club / Best Enemies
4. The Hunchback of Notre Dame
5. Super Why, Season 1, Ep. 61: The Ugly Duckling: Becoming a Swan
6. The Fox and the Hound
br>