This weekend, we're heading south to College Station to watch the Aggies take on Nebraska. It's going to be a fun game. We'll be tailgating Saturday with The Nerd's family as our Thanksgiving celebration with them, so I wanted to bring something to add some holiday flavor to the tailgate.
These Pies in a Jar fit the bill perfectly. They are individually-sized and perfectly proportioned. Here's what you need to make your own:
Pie in a Jar
Source: Our Best Bites
Ingredients:
12 – Half-Pint Wide-Mouth Mason Jars
3 – 9-inch Pie Crusts (double that if you're making a pie that needs crust on top)
Pie Filling (I made this pumpkin pie recipe and this Cranberry Apple Pie recipe)
Directions:
Wash and dry the Mason Jars.
Cut the pie crust into quarters. You'll use 1/4 of each pie crust for each jar. Press the piece of pie crust into the jar, completely covering the sides and reapplying excess crust as needed. Fill the jar with your pie filling and top with crust if needed.
Ok – now, you can put the lids on and freeze the individual pies (before baking) to have them set aside in the event you need a quick dessert for company. You'll just pull 'em from the freezer and bake them as directed in the recipe.
Or, you can go ahead and bake your pies according to the recipe. I've found no variation in cook time needed from a 9-inch pie to the Pies in a Jar. You might want to keep an eye on your pies, though, just to be safe.
Once they're ready, just let 'em cool and serve when desired.
Enjoy!
Looking for more fall recipes? Look no further!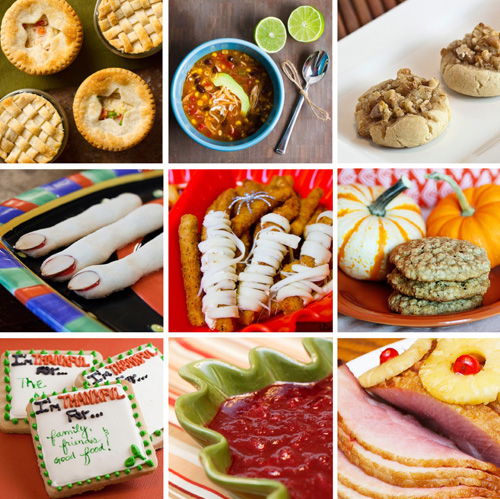 br>