Lately, it seems that all my friends and family members are having babies. And that makes me really, really happy because it means that I get to pick out baby presents!
To me, the best presents are the ones that are unique and reflect the family they're going to. When we found out that we were having a boy, The Nerd was *so* excited. He kept talking about how one day, he'd get to teach our son to play baseball.
So when Texas Timber Bats asked me to review a personalized baseball bat baby gift, I knew it would be a keepsake we'd treasure.
Baby Bats are custom made to be the length of your baby when he or she was born. They are engraved with your child's name and birth statistics. They come in three different wood finishes — pecan, natural and cherry — and are crafted from Northern White Ash from the Catskill Mountains.
When my personalized baseball bat baby gift arrived, I was shocked at how short the bats were! Was my baby boy really that small? He most definitely was! I can't believe how much he's grown — and I had to take a photo to see just how much!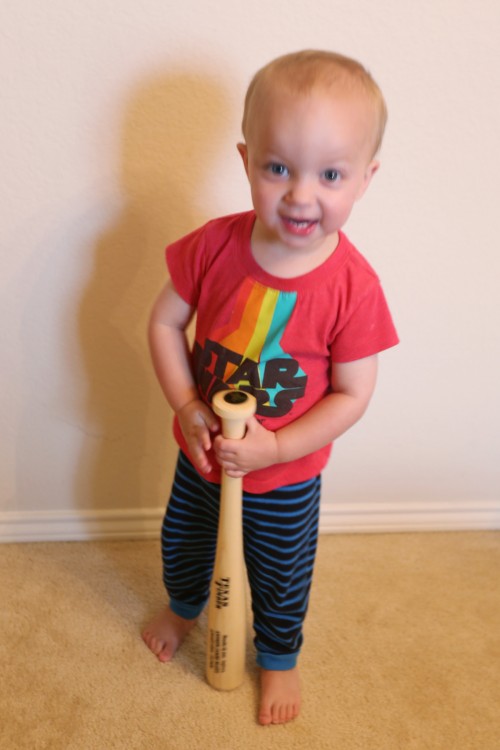 I love that this will be kind of like a measuring stick that we'll use throughout his whole life.
I was impressed with the quality of the Baby Bats — these are not lightweight toys! They are high quality and made of real wood.
Andrew wanted to play with the bats, but I wouldn't let him, haha! I knew the perfect place to display them:

The baseball bat might not fit the Star Wars theme, but I think it looks good!
If you have a baseball fan in the family, or know one who is about to have a little one, this really is the perfect gift. It's unique and personal and definitely something new parents will cherish for years to come!
Want one for yourself or a friend? Use the coupon code BLOG15 for 15% off a personalized baseball baby gift!
Are you or your loved one a baseball fan? Who do you cheer for?
br>