Welcome to the inaugural edition on Nerdy Things Thursday, a weekly (I hope) adventure in all things nerdy.
Every Thursday, I'm going to try to explain (and try to come to terms with) some of the nerdy aspects of my life to you "normal people."
Bear with me as I flounder through my explanations. The Nerd has already pointed out an error in
this
post because I initially wrote Colonel Pike instead of Captain Pike (although he was a colonel by the end of the movie, so I think it still counts). I have since corrected the error because if I didn't, I'd never hear the end of it.
Anyway, this is my disclaimer telling you that all of the things you'll read regarding this nerdy stuff in Nerdy Things Thursday are just my observation as an outsider being exposed to them and are *not* necessarily The Word of God. There. I hope that makes all of you nit-picky nerds happy.
In this edition, we'll explore the television show
Battlestar Galactica
, hereforth referred to as BSG.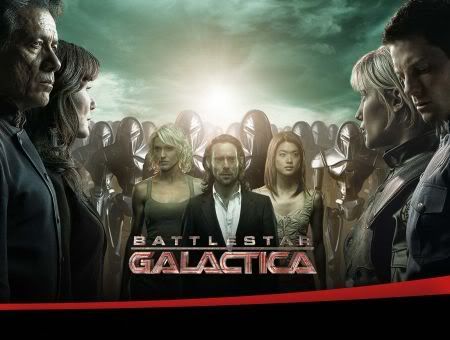 The show first aired in 1978 but was recreated in 2004 with a new, more gritty look and it is this later edition of the franchise that we will talk about.
Battlestar Galactica
takes place in a distance universe where humans live in the Twelve Colonies. Once upon a time, they built Cylon robots who became too smart for their own good and a war ensued between the humans and the machines (sound
familiar
?). The Cylons disappeared for many years, leading the humans to think that the war was long over.
But a sudden attack on humanity nearly wipes out the race, save for a few thousand souls and only one (so you think) warship known as the Battlestar Galactica. The show chronicles the journey of these survivors to find a safe place in the galaxy as they run from the Cylon arm. Little do they know that some Cylon models appear human and there are enemies amongst their own.
It's actually a very good show and I enjoy watching it. But don't tell The Nerd that.
My first exposure to BSG was shortly after The Nerd and I started dating.
When we first started dating, two things were explained to me in no uncertain terms: First, that James plays video games. We'll talk about the ramifications of that statement at a later date. Let me just say that when a Nerd tells you that he "plays" video games, he does not mean that he occasionally picks up a controller for an hour or two.
The second Nerd Law was that under no circumstances would we *ever* go out from the hours of 8 to 10 p.m. on a Friday night. Never. Ever. Those two hours are what I like to call the Friday Night Nerdgasm.
Back in 2006, the Friday Night Nerdgasm consisted of Stargate: SG1 and Battlestar Galactica. Today, it's Stargate: Universe and Sactuary.
(I still maintain that the reason that SciFi — I refuse to call it SyFy — chooses to air the most popular nerdy shows at primetime Friday night is because they know that nerds would rather have an imaginary date with Katee Sackhoff than with a real girl. See
this
video for evidence.)
I know what you're thinking — she's crazy to have agreed to those terms. Yes, yes I was.
I chose
Battlestar Galactica
for this edition because it has been a huge part of my life the last two weeks, since I bought The Nerd the complete series on Blu-ray for
Christmas
. Big mistake. That's all we've watched since Christmas. I'm having dreams of Cylon Agents bursting through the front door.
Well, there you have it. If you've ever wondered why your man asks for a Cylon Toaster or mutters Starbuck in the middle of the night, you have your answer.
Live long and prosper!
br>